Bollywood actress claims wrestler took bribe before brutal body slam (VIDEO)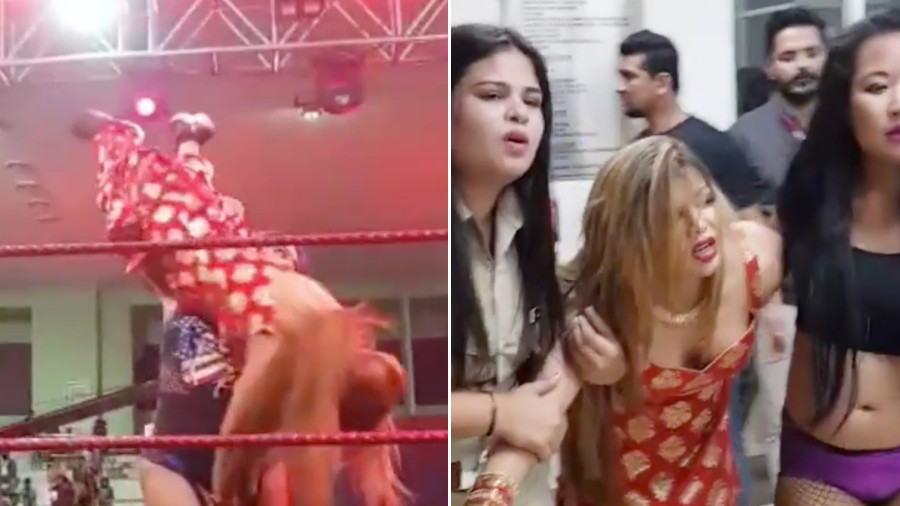 A Bollywood star says an American pro-wrestler took a bribe from a rival actress to brutally body slam her during a celebrity wrestling match, leaving her in pain and fearing she might have trouble walking.
US wrestling star Tanea 'Rebel' Brooks is on tour throughout India and says she was challenged to a match against popular Indian actress Rakhi Sawant. The bout ended in high drama.
The two unlikely rivals faced off in the ring on Monday night at the Tau Devi Lal Stadium in Panchkula, northern India.
However, after some interesting moves the bout took a turn for the worse - or better, depending on your view of wrestling - when Rebel suddenly and decisively body slammed the actress. Sawant collapsed in pain.
The shocking maneuver brought the match to an abrupt and dramatic end as a visibly distraught Sawant was carried from the ring and escorted out of the building, seeking medical attention.
Sawant shared her harrowing experience as she lay immobile in bed in the immediate aftermath of the bout, and complained to doctors that she was suffering back and neck pain. The actress took things a significant step further, however, when she accused her wrestling rival of taking a bribe to intentionally hurt her.
The actress claims the wrestler was bribed by another Bollywood star, and former Miss India, Tanushree Dutta, with whom she has an intense, ongoing feud.
"She took money from @iamtanushreeduttaofficial and tried to injure my back so that I can never dance again or entertain my fans," Sawant accused in an Instagram post.
Rebel swiftly took to social media to hit back at the claims and chastise Indian media for "harassing" her over the actress's allegations.
"This drama queen (Rakhi Sawant) wanted to step in the ring with me! Yes, I bodyslammed her and I am sorry I hurt you! But don't spread lies about me!," she wrote in one defensive post.
The following day Sawant shared footage showing her engaging in a group prayer to God for the ability to walk, while footage of the phenomenal body slam continued to spread online. It has since been viewed over 2 million times.
Think your friends would be interested? Share this story!