Passenger complains about lack of window, flight attendant draws him one (PHOTOS)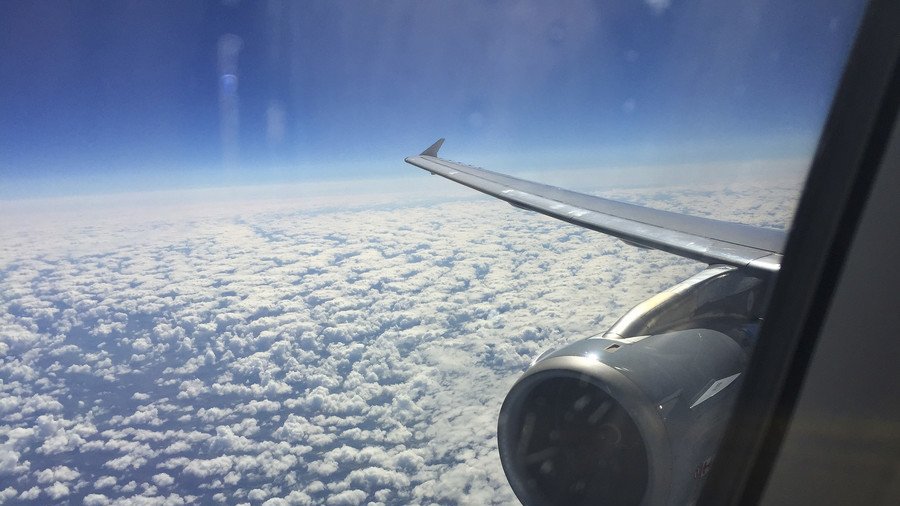 A flight attendant's creative solution to a passenger's complaint about not having a window seat has gone viral after netizens enjoyed her cheeky response to the objection.
The passenger reportedly grew irate that he was not seated next to a window, and demanded he be moved, Sora News 24 reports. After telling him that such a seat change was simply not possible, the air hostess devised an alternative, and totally unexpected, solution to the problem at hand – simply sketching a window on a piece of paper.
The faux window panes came complete with a charming view of clouds and ocean – presumably two environmental features passengers lucky enough to have real window seats were enjoying. The crew member then helpfully taped it to the space alongside the passenger where a window would be.
READ MORE: Woman launches shocking tirade at flight crew after they deny her more booze (VIDEOS)
A fellow passenger on the flight to Japan snapped a photo of the alternative window and shared it on social media where it soon racked up thousands of retweets and likes on Twitter.
"When cabin attendants came around asking us if we wanted something to drink, the man beside me blurted out, 'Give me a window,'" Twitter user @kooo_TmS_suke explained.
The 'window' seated passenger is not alone in his frustration at booking a specific spot only to find a bare wall instead. The hashtag #wheresmywindow has been used by others who anticipated glorious and unobstructed views of the earth from above, only to suffer crushing disappointment at the lack of any outside view. Unfortunately, it appears that as airlines add more seats to planes, the interior furnishings don't always align with the windows.
Like this story? Share it with a friend!
You can share this story on social media: