IDF sends tanks to Gaza border, bracing for potential full-fledged ground offensive – reports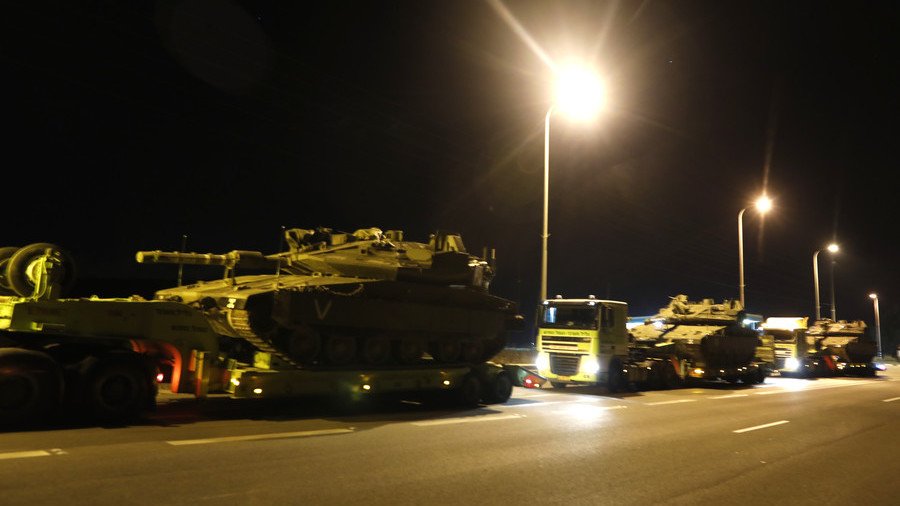 Tel Aviv has reportedly deployed additional ground forces, including tanks, to the Gaza Strip border after more than 300 rockets were fired at Israel, triggering airstrikes against some 70 targets across the Palestinian enclave.
The Israeli military began reinforcing its positions along the Gaza border on Monday night after the army was reportedly given a green light to act against Hamas militants if the rocket fire against southern Israeli communities continues. Columns of trucks carrying armored vehicles were recorded heading to the border just as the IDF warned Hamas of an "iron fist" response to the most rigorous shelling of Israel since the 2014 Gaza war.
"Residents of Gaza, look closely at the pictures from Protective Edge in 2014: A picture is worth a thousand words," Major General Kamil Abu Rokon, the Coordinator of Government Activities in the Territories (COGAT), wrote on the Arabic-language Facebook page, stating that Hamas has "crossed a red line" with their attacks on Israel.
READ MORE: Israel bombs TV station in Gaza amid massive border flare-up (PHOTO, VIDEO)
Israel has yet to announce its official response to the unprecedented flare-up in violence which was witnessed on Monday after more than 300 rockets were fired at Israel. Hamas said it was a retaliation against an assassination operation during which the IDF entered two miles inside Gaza.
According to reports, following a four-hour long meeting with defense officials, Prime Minister Benjamin Netanyahu was persuaded to give the IDF a 'green light' to launch a massive scale military operation in Gaza. The official announcement of government response is due on Tuesday, after Netanyahu's meeting with the security cabinet.
So far the IDF attacked more than 70 Hamas and Palestinian Islamic Jihad targets in the Strip using planes, helicopters, and tanks, stopping short of a full-scale cross-border intrusion. Hamas' Al-Aqsa TV station, located in the heart of Gaza City and the military intelligence office of the militant organization were among the targets of the Israeli raids. Three Palestinians were confirmed dead from the IDF's strikes.
On the Israeli side, at least one person was killed after a residential building in Ashkelon was hit by a projectile. Dozens of others were injured across Southern Israel from rockets that managed to bypass the Iron Dome anti-missile system.
READ MORE: Israeli fighter jets strike dozens of Gaza targets as 300 rockets rain down on towns (VIDEOS)
The last major Israeli intrusion into Gaza began in July 2014, when the IDF launched Operation Protective Edge with the stated aim of halting rocket attacks on Israeli territory. The seven-week long conflict is estimated to have claimed over 2,100 Palestinian lives, with another 10,000 injured in the offensive.
Think your friends would be interested? Share this story!
You can share this story on social media: