Israeli fighter jets strike dozens of Gaza targets as 300 rockets rain down on towns (VIDEOS)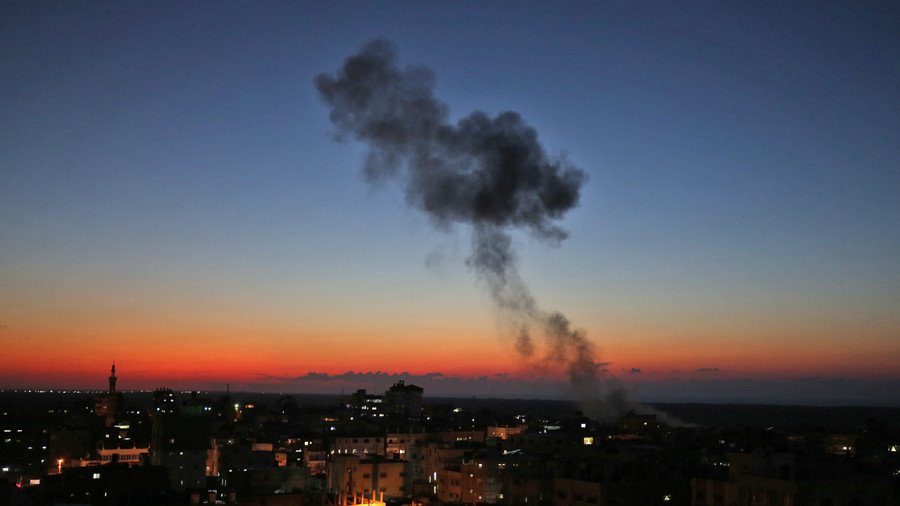 Israel has struck over 70 targets in the Gaza Strip, following a massive volley of 300 rockets from the Palestinian enclave. While dozens of projectiles were intercepted, others hit the Israeli settlements, causing fires.
Two Palestinians have been killed, Gaza's health ministry confirmed.
An Israeli soldier was seriously injured when a military transport bus was hit by a guided anti-tank missile close to the Gaza border. The bus had carried troops to the location, who disembarked just before the hit. The vehicle was completely destroyed.
Video from the scene showed Israel's Iron Dome rocket defense system intercepting some of the incoming projectiles.
That attack was itself a response to an Israeli special forces raid in the Gaza strip on Sunday night that saw at least two Hamas commanders and four other Palestinians killed. One Israeli soldier was also killed, and another wounded. Israeli warplanes reportedly lobbed missiles at the area after the raid, and Israeli Prime Minister Benjamin Netanyahu cut his visit to Paris short to return, in light of the "security incidents."
The IDF claims 80 projectiles were fired into Israel in less than 40 minutes on Monday, while Hamas claims to have launched 100. Sirens wailed across southern Israel as the Iron Dome struggled to intercept the incoming firestorm.
Israel later updated the number of Palestinian projectiles to 300, adding that "dozens" of them were shot down.
Residents of Israel's border towns described the attacks to Haaretz as sounding "almost like a war," while former IDF spokesman Avi Meyer said that he "can't remember the last time southern Israel came under such a heavy attack from Gaza."
The sirens won't stop. I can't remember the last time southern Israel came under such heavy attack from Gaza.

— Avi Mayer (@AviMayer) November 12, 2018
The latest escalation in an ongoing tit-for-tat struggle, Sunday's raid and Monday's airstrikes came at a time of relative calm. Earlier on Sunday, Netanyahu told reporters that he was looking into the possibility of a long-term ceasefire with Hamas, and explained that he had allowed suitcases stuffed with $15 million in cash to enter Gaza from Qatar last week, to "prevent a humanitarian crisis in Gaza."
The Russian Foreign Ministry responded to the flareup with a call for ceasefire.
"We call upon the Palestinians and Israelis to immediately return to a sustainable ceasefire, to show restraint, to take measures in order to avoid confrontation with unpredictable consequences," the Ministry said on Monday.
Subscribe to RT newsletter to get stories the mainstream media won't tell you.
You can share this story on social media: