WATCH thousands of far-right marchers light a SEA OF FLARES in Poland as police look on (VIDEO)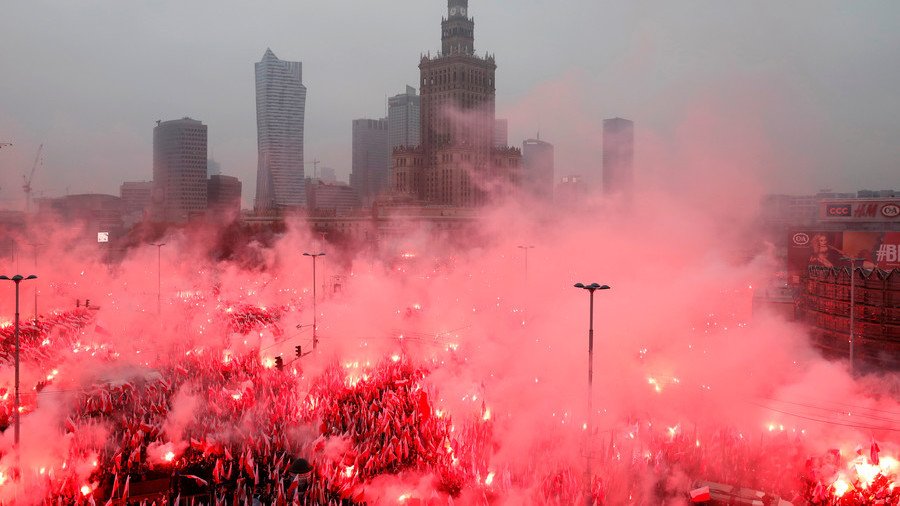 The ultra-nationalist crowds that flocked to Poland for its independence day march were seen performing Nazi salutes and burning flares at the event attended by staggering 200,000 people. Police, however, stood idly by.
Crowds of people, including various far-right groups, unleashed a sea of fire and smoke on the streets and squares of the Polish capital of Warsaw during an event marking a centenary of Poland's independence on Sunday. Videos posted on social media show a Warsaw square being lit with thousands of red flares burnt by the marchers.
Described last year as the largest far-right gathering in the world, participants apparently felt quite comfortable on the Warsaw streets. Photos posted on social media showed members of the Polish National Radical Camp (ONR), which is often described as a neo-Nazi group, waving their flags as they took part in the celebration.
Members of another ultra-nationalist organization called the All-Polish Youth were seen unfurling a large banner with their symbols during the march. According to some reports, they also burned an EU flag.
Flares and firecrackers were also seen being thrown around in the streets, even though pyrotechnics were supposed to be prohibited at the rally. Eyewitnesses said that police ignored the antics.
Slogans such as "USA, empire of evil" and "Poland, white and Catholic" were shouted. However, Polish nationalists were not the only ones to attend the controversial event. Side by side with the ONR marched Italian neo-fascists from the radical Forza Nuova movement.
Some of them were wearing balaclavas while others were seen openly performing Nazi salutes.
Such actions prompted no response from the Polish authorities: there are no reports of any detentions or instances of police interference during the march. The Polish police were on strike at the time of the event and warned in advance that they would not be able to provide security for it.
READ MORE: 'Europe will be white': Polish leaders sanction massive far-right march in Warsaw (VIDEO)
The Polish government also made an unprecedented move by not only sanctioning the event but also taking part in it. President Andrzej Duda, Prime Minister Mateusz Morawiecki and the leader of the ruling conservative Law and Justice party, Jaroslaw Kaczynski, all participated in a joint march.
Kaczynski, who is considered to be one of the most powerful men in Poland and is known for his uncompromising views, called the march a "great success," according to Radio Poland.
Think your friends would be interested? Share this story!
You can share this story on social media: