Sole brothers? Ex-Houthi minister shoed like George W. Bush at Saudi defection presser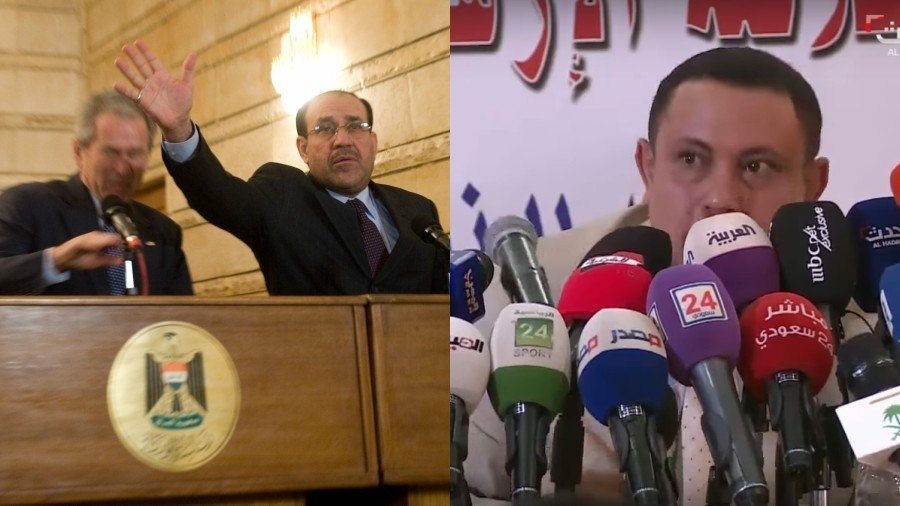 Echoing the infamous shoeing attempt of George W. Bush in 2008, an ex-Houthi minister was stuck by the footwear of an angry Yemeni journalist during his first media outing since his defection to Saudi Arabia.
The shoe went flying at Abdul-Salam Ali Gaber, who had served as the Houthi's information minister since civil war broke out in Yemen in 2014, as he spoke to gathered media in the Saudi capital Riyadh on Sunday.
In Arab culture, the throwing of a shoe at someone is seen as a mark of deep contempt – and an insult – for the intended target. The practice came to the attention of those outside the Arab world in 2008, after Iraqi journalist Muntazer al-Zaidi hurled both of his shoes at former US President George W. Bush during a press conference in Baghdad.
Luckily for Bush – not so much for Gaber – Zaidi's aim wasn't as good as his Yemeni counterpart's.
Footage capturing the latest shoeing incident shows Gaber answering media questions while sitting behind a table of microphones. A commotion is heard off screen followed by Gaber moving his hands towards his face to deflect the incoming shoe.
This is just your periodic reminder of the George W. Bush Shoeing Incident of 2008. This concludes this public service message. https://t.co/GtptHXQ9dl

— Peter Quince (@bassharborhead) June 8, 2018
Several men then grabbed the journalist who continued to shout and hurl insults at Gaber as he was ejected from the room.
Gaber's defection comes as Saudi-backed forces continue its offensive to oust Houthi rebels from the port city of Hodeida, controlled by the Houthis since their uprising against the government started in 2014. A Saudi-led coalition of mostly Arab states entered the conflict on the side of the government the following year, conducting an aerial bombing campaign which has devastated vast swathes of the country and its infrastructure.
Hodeida is one of the only sources of aid and supplies for much of Yemen's civilian population, and since a Saudi blockade of the port has been in effect since 2017, concerns of people starving en masse have been repeatedly raised by the UN and humanitarian groups.
Like this story? Share it with a friend!
You can share this story on social media: