Day X: Germany's far-right commandos reportedly plotted to kill top politicians when order 'falls'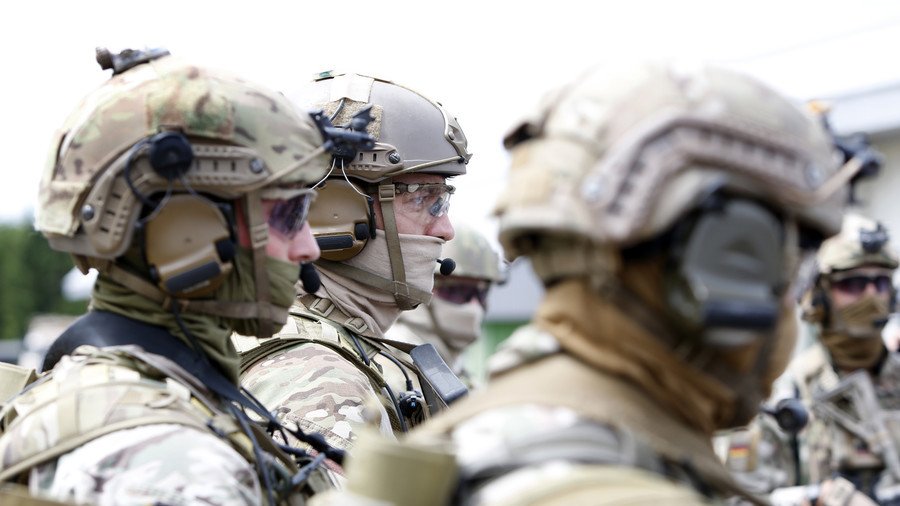 A far-right underground network made up of members of Germany's elite commando force and military veterans planned to kill top politicians upon the collapse of order in the country, a sensational media report claims.
German police have reportedly uncovered a clandestine far-right network which allegedly had "concrete plans" for what they called "Day X" – the moment when Germany's civil order would collapse, Focus magazine reported. The harrowing plan included bringing "unwanted" political figures to a remote place and killing them en masse.
The names of people on the group's "hit list" have yet to be established, but it is thought that Dietmar Bartsch, head of the Left Party's parliamentary group, was one of those to be taken out.
The far-right underground network is said to include members of the KSK, the German army's elite special operations unit, along with military and law enforcement veterans. Thoroughly preparing for "Day X," they had already created secret weapons and ammunition depots, as well as fuel stores.
Infiltrating the secretive group would have been impossible without one of its leaders who happened to be "the only trustworthy source of information" for MAD, the German military intelligence service, according to Focus.
Ironically, a senior officer within the very same service did his utmost to hamper the investigation. A 42-year-old lieutenant colonel from the military intelligence, whose name remains unknown, was charged with leaking sensitive information about the probe to some contacts within the German army, warning them about police searches in advance.
As the probe grew larger, investigators also stumbled on a loose association of people known as survivalists in Germany.
Usually dismissed as conspiracy theorists readying themselves for all sorts of apocalyptic crises, many survivalist groups do have links to far-right extremists and the so-called "Reich citizens" – nationalists who don't recognize modern democratic Germany and seek the restoration of the old German Reich.
Another KSK officer identified as Andre S. was named as an administrator of a number of online survivalist groups, which were frequented by some members of German neo-Nazi factions. The man denied being a neo-Nazi and the MAD ultimately concluded he was not an extremist, Die Welt reports.
German officials have been conspicuously tight-lipped about anything linked to the information about the alleged secret network. The military refused to comment on possible links between KSK officers and controversial survivalist groups.
Germany has been facing some unnerving developments within both its armed forces and society for quite some time. Last year, the Bundeswehr found itself in the crosshairs as numerous Wehrmacht memorabilia and Nazi-era artifacts were discovered inside several barracks.
These included posters glorifying Nazi soldiers, as well as distinctive German steel helmets and replicas of the Wehrmacht's standard-issue weapons. On the heels of that uncomfortable revelation, Defense Minister Ursula von der Leyen promised to scrutinize the army ranks "from recruits to generals, from instructors to the minister."
Meanwhile, extremists within the military are far from the only source of concern for Berlin. A January report by Focus magazine suggested that the number of the far-right 'Reich citizens' grew to almost 16,000 members and they apparently started preparing for their own "Day X" by creating an armed wing.
Like this story? Share it with a friend!
You can share this story on social media: