US won't let Russia ease North Korea sanctions, Haley says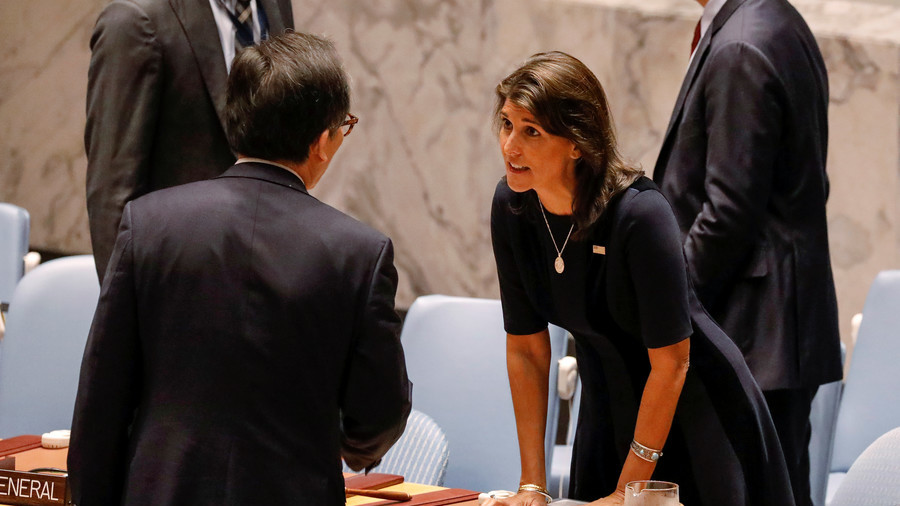 Russia says it's trying to ease sanctions on North Korea to make aid organisations' work there possible. The US says it won't let that happen.
Following a closed-door UN security council meeting this Thursday requested by Russia and China, US ambassador Nikki Haley told press members that Russia is trying "to lift banking restrictions" against North Korea, an option which she says is off the table: "So now we know what their agenda is, we know exactly why they're trying to do it and we're not going to let it happen."

At the meeting, the Russian Mission to the UN released a statement referring to "serious humanitarian problems" resulting from the current American-championed sanctions. The statement claims the restrictions are interfering with the ability of nonprofits and humanitarian aid organizations to work in North Korea – even though they're not directly subject to the sanctions regime. It urges the council "to examine as soon as possible the options to rectify the situation using the entire tool set available to the UNSC."

Echoing Trump's statements on the matter, Haley responded that sanctions would not be lifted since the North Koreans "haven't done anything to warrant us getting rid of them yet," adding that "The threat is still there."

Earlier this year Haley accused Russia of violating the sanctions agreements and asked the UN to impose punishment. Russia, China and South Korea, in turn, have been pushing for the US to make small concessions in order to facilitate dialogue.
Like this story? Share it with a friend!
You can share this story on social media: