'I will give you a prize': Duterte offers cash reward & holiday for killers of crooked cops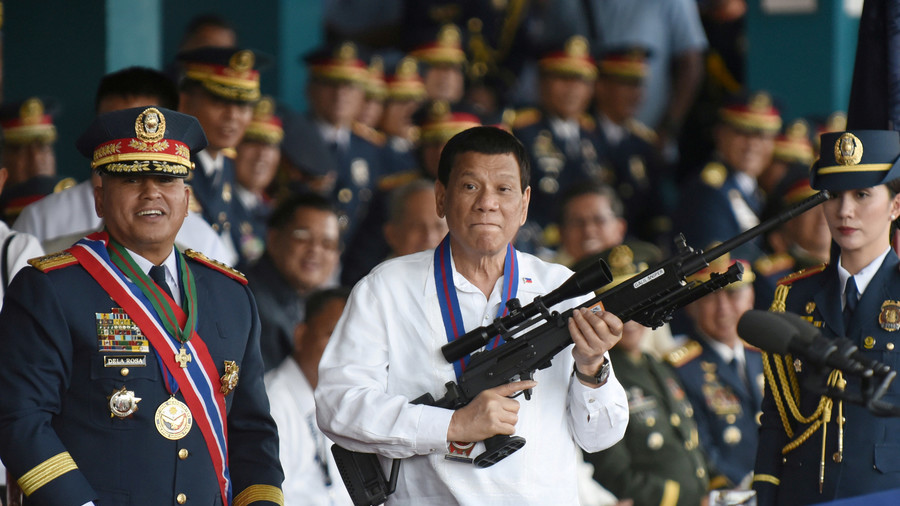 Philippines President Rodrigo Duterte has offered a cash bounty to cops who kill superior officers, dubbed 'ninjas', whom they suspect of involvement in the illegal drug trade.
"Last night a police colonel was killed. A ninja," Duterte said Tuesday at a summit on illegal drugs, as cited by ABS-CBN News. "I am going to reward any policeman who will kill a superior because the superior is into drugs. I will give you a prize and a trip to Hong Kong."
Supt. Santiago Rapiz was killed during a shootout in a drug raid in Dipolog City on the Philippines island of Mindanao on Monday night.
Rapiz allegedly fought back when officers attempted to arrest him. He was previously accused of involvement with suspected drug lord Melvin 'Dragon' Odicta, who was himself killed in August 2016, reports The Philippines Inquirer. Rapiz was reportedly on Duterte's alleged 'narco hit list'.
"If I caught you, I'm sorry. That's it," Duterte added, as cited by The Inquirer. "I will really kill you. That's why I said, 'Do not destroy my country because I will kill you. Do not destroy our young daughters and son because I will kill you.'"
READ MORE: Foreign critics of Philippines drug war will be 'human live targets' to military – Duterte
The president also described the drug trade as a "national security issue" adding that he would be calling on the military to assist the police in their anti-narcotics operations.
"This is a national security issue. I have every right to call on the Armed Forces to assist the police. Many of those are policemen who are stupid. Son of a b****!"
He has previously offered a bounty of 3 million Philippine pesos ($56,577) for the killing of any such rogue, 'ninja cops' who recycle and resell drugs seized in police raids.
The president recently fired all senior customs officials in the country for failing to stop a major shipment of drugs from entering the country. The ongoing and extremely violent drug war has been a hallmark of his presidency.
Think your friends would be interested? Share this story!
You can share this story on social media: