'My only sin is the extrajudicial killings': Duterte's strange 'confession' dismissed as 'playful'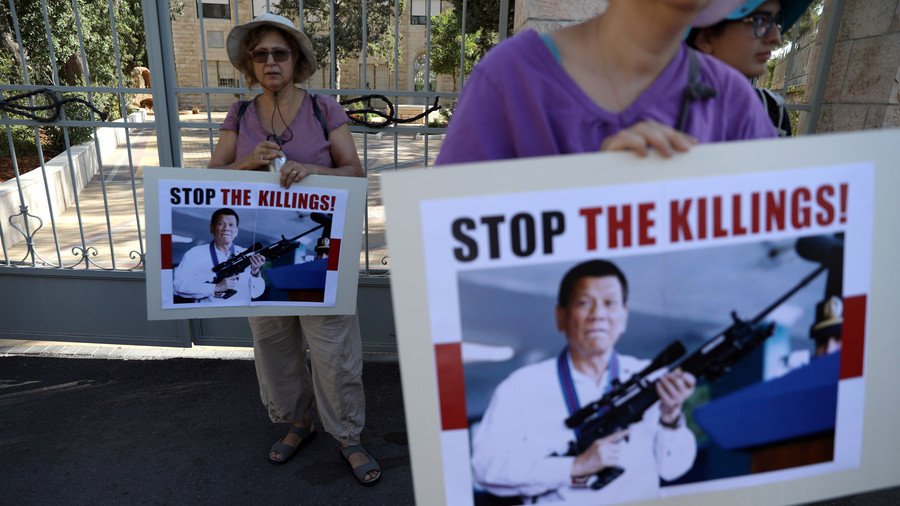 Philippines President Rodrigo Duterte has seemingly admitted to authorizing extrajudicial killings as part of his war on drugs. The indirect concession was made as Duterte fended off criticism of his leadership.
"I told the military, what is my fault? Did I steal even one peso? My only sin is the extrajudicial killings," he stated during a speech at the presidential palace on Thursday.
Previously, Duterte claimed that the thousands of extrajudicial killings carried out alongside the administration's war on illegal drugs were not state sanctioned, and blamed ninja cops involved in drug operations as potentially responsible.
READ MORE: Foreign critics of Philippines drug war will be 'human live targets' to military – Duterte
Duterte did not elaborate on his statement but the unexpected revelation could bolster the ongoing preliminary investigation by the International Criminal Court (ICC) into the deaths. The preliminary examination will determine if a full-blown investigation should follow. Former Solicitor General Florin Hilbay called on the ICC to take note of Duterte's latest remarks.
The director of Human Rights Watch Asia, Brad Adams, also emphasized the importance of Duterte's statement."This admission should erase any doubt about the culpability of the president."
"It was the first time Mr. Duterte publicly acknowledged that extrajudicial killings by the authorities had occurred in his presidency, and it added credibility to claims by rights groups that he had engineered mass killings of alleged drug suspects."https://t.co/h05jsVOfoC

— Carlos H. Conde (@condeHRW) September 27, 2018
The president's spokesman, Harry Roque, however, has played down the comments, telling reporters Friday morning that they should "not be taken literally" and were intended to be "playful."

According to government data, more than 4,000 people have been killed in anti-drug operations since Duterte came to power. However, the 77-page report submitted to the ICC alleged the death toll was more than 8,000, while some rights groups estimate it could be greater than 12,000.
Duterte also insisted during his speech Thursday that there was no end in sight for the anti-drug crackdown, confirming it will continue until his six-year term ends in 2022.
"It will not end," he said. "As I have said, I will put on the table my life, the presidency. I can lose it anytime. My honor."
Think your friends would be interested? Share this story!
You can share this story on social media: