Grotesque dead fish find fuels fears over Iraq water quality (VIDEO)
Published time: 5 Nov, 2018 09:39
Edited time: 6 Nov, 2018 10:15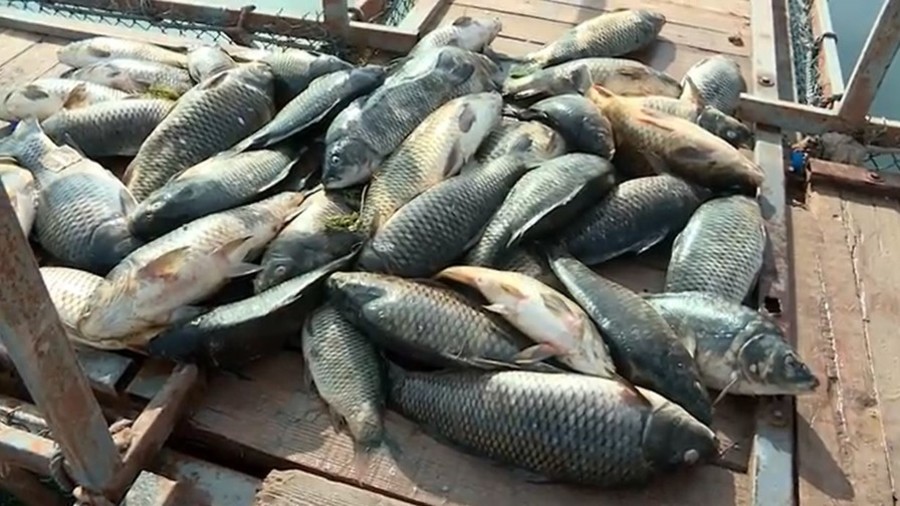 Iraqi fishermen have been busy scooping thousands of dead carp from the River Euphrates after the fish were found mysteriously floating in the water in Babil province, south of Baghdad.
In a development that is sure to impact local livelihoods, residents have spoken of their fears that the fish wipeout might be the result of contaminated water.
While the reason for the deaths has not yet been determined, agricultural chief Safaa al-Junaibi believes that overcrowded fish farms and a rapid spread of bacterial disease could be to blame.
One local man, Hussein Faraj, who has worked to clean up the grisly scene, said there are suggestions that water pollution could have had a hand in the incident.
READ MORE: 2,000 fish likely cooked to death in extreme California heatwave
"Some are saying it's because of a sickness, others say it's because of chemicals," said Faraj, as cited by Al Araby. "We're waiting for a solution from the government or a test of the water - we're scared the water will poison us in the coming days, too."
Images taken at Musayyib, Babil Province, reveal large swathes of carp lying dead in nets. In drone footage, dead fish can also be seen floating on the surface of the Euphrates.
Water pollution is currently plaguing parts of the country and this the problem has hospitalized thousands of Iraqi people. In August, Ryad Abdel Amir, head of Basra's health department, reported that more than 17,000 people in the city alone had been admitted to hospital for stomach pains and vomiting, due to drinking local water.
If you like this story, share it with a friend!