Iran inaugurates mass production of homemade fighter jet (VIDEO)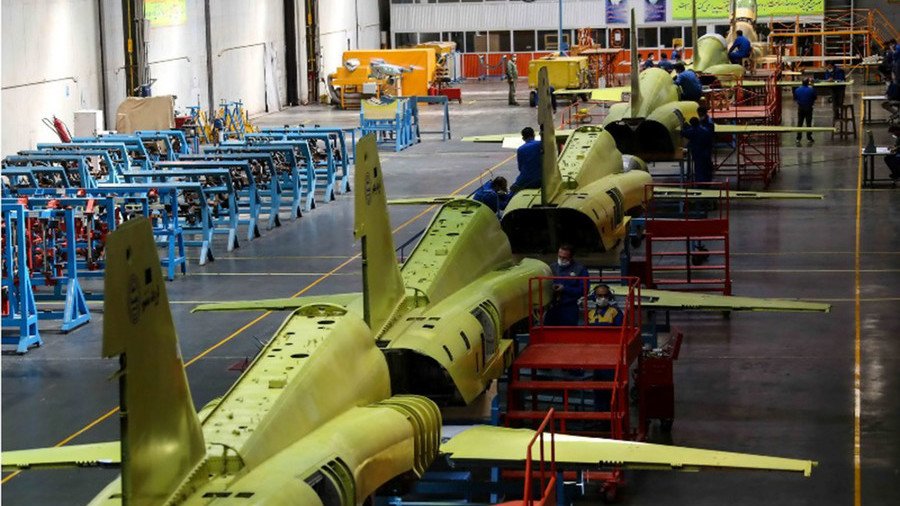 Iran's defense minister has launched the production of a domestically-designed fourth-generation fighter jet, just as Tehran is bracing for sweeping US sanctions, expected to come into effect early next week.
"Soon the required number of these planes will be produced and put at the service of the Air Force," Defense Minister Brigadier-General Amir Hatami said, at the ceremony marking the start of the production. He went on to hail the accomplishments of Iranian engineers, made in the face of "the enemies' psychological warfare, propagandist blackmail, and economic sanctions." Iran will also "spare no effort" as it seeks to further develop "peaceful defense technologies" to protect its sovereignty, Hatami added.
The fourth-generation jet, called Kowsar, boasts "advanced avionics", a multipurpose radar and a fire control system linked to a digital military data network as well as an independent radio navigation system, Iran's Press TV reported.
Footage showing the jets being assembled at an Iranian defense industry facility has also been released. Part of the video shows the jet during an apparent test flight.
The "completely indigenously-made" jet was first unveiled at a defense show in August. At that time it was announced that the aircraft is to be produced in two versions – as a single-seat and a two-seat fighter – and will be used for aerial support missions as well as for pilot training.
The plane apparently drew the attention of Iranian President Hassan Rouhani, who was spotted sitting in the new plane's cockpit during the airshow.
The announcement by Hatami came just two days before the US sanctions targeting Iran's shipping, finance and energy sectors are expected to come into force.
Tehran has repeatedly dismissed the US punitive measures by saying it would be still capable of managing its economy despite the pressure. Earlier on Saturday, Iran's Supreme Leader Ayatollah Ali Khamenei slammed US President Donald Trump's policy by saying that he "disgraced" US prestige while also claiming that American power has, in fact, been "declining."
If you like this story, share it with a friend!
You can share this story on social media: