You too: Google staff stage worldwide walkout over sex harassment, mistreatment of women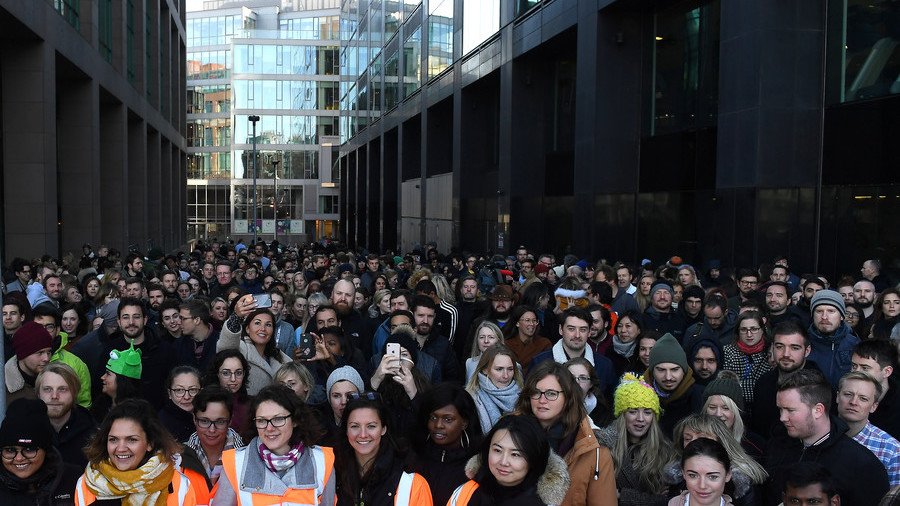 Despite the tech giant framing itself as a champion of the #MeToo movement thousands of Google employees have staged a walkout to protest the company's failure to address sexual harassment and gender inequality issues.
Google employees from offices in Berlin, Dublin, Haifa, London, Singapore, Zurich, and other cities staged walkouts at 11am, starting with the Tokyo office. Other offices around the world will follow suit at 11am local time.
READ MORE: NYT, Google cheerlead for #MeToo but do they practice what they preach? (VIDEO)
The Walkout for Real Change was reportedly sparked by the New York Times revelation that the company gave Android creator Andy Rubin a $90 million severance in 2014 after he was accused of sexual harassment, despite Google finding the allegations credible. The New York Times article revealed a number of instances where senior executives at the company were paid millions in exit packages after being accused of sexual misconduct, while Google kept silent about their reported behavior.
This has led many to accuse the tech giant of hypocrisy given its public backing of the #MeToo movement.
The walkout comes despite Google's chief executive, Sundar Pichai, and co-founder Larry Page taking steps to quell an internal backlash over the revelations. The company told its employees it had fired 48 people over sexual misconduct allegations over the last two years, and none of them were given packages.
Demands
Protesters have issued a list of demands that they want Google to address. The first one calls for an end to forced arbitration for discrimination and harassment allegations, a practice which requires employees to settle grievances in-house, and prevents employees from going beyond Google if they are dissatisfied with the outcome of the arbitration.
The group has called for a publicly disclosed sexual harassment transparency report and for Google to create a "clear, uniform, globally inclusive process for reporting sexual misconduct safely and anonymously."
It also wants to bring an end to pay and opportunity disparities and appoint an employee representative to sit on the board of directors.
Women make up 31 percent of Google's work force and about 26 percent of its executives. Google has also been sued by former employees and the Department of Labor, which claims that it underpaid women.
READ MORE: Google CEO sends out sex harassment damage control memo
The group has called on Google to elevate the position of Chief Diversity Officer so that they can answer directly to the CEO and make recommendations to the Board of Directors.
Google and its parent company Alphabet employ 94,000 people worldwide. The company has faced a spate of pushback from employees over the last year. In March, employees protested the company's planned partnership with the Pentagon's Project Maven, and many took issue with its plan to build a censored version of Google to please the Chinese government.
Like this story? Share it with a friend!
You can share this story on social media: