'Iran is here?': Israeli supermodel Bar Refaeli's niqab ad sparks Islamophobia cries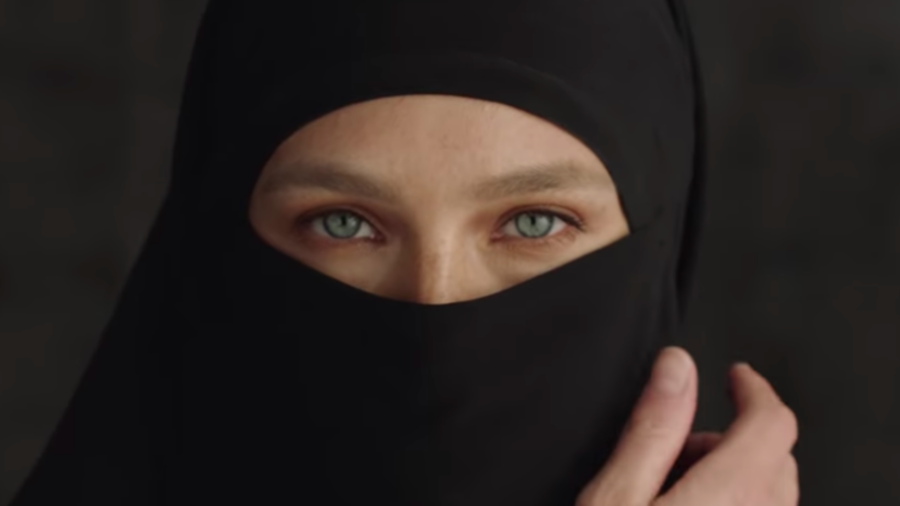 Bar Refaeli's new clothing ad has sparked outrage over its depiction of Muslims. It shows the Israeli supermodel taking off a niqab and suggesting that there is no freedom in Iran.
Images of Refaeli wearing a niqab and hijab appeared in newspapers and on billboards around Israel this weekend, all featuring the words, "Iran is here?"
On Monday, the accompanying ad was shown on television and on social media. Refaeli appears wearing a face veil and head cover, which she soon rips off to reveal her long blond hair, a crop top and jeans. The ad is for a new line from the clothing brand Hoodies, which she partially owns.
As Refaeli dances around, enjoying her Hoodies clothing, a song plays with the lyrics, "it's all about freedom, finally breaking the chains, costing my freedom."
"Freedom is basic," Refaeli says at the end. The supermodel has since deleted the video from her Instagram, but it remains on the Hoodies' Youtube channel.
Another version of the ad has been released, which includes an Israeli transgender actress, a Hasidic TV presenter and an Ethiopian-Israeli model, suggesting the clothing line attempted to promote diversity - so long as there are no Muslims involved.
Many expressed disappointment with the ad, with a number of people pointing out that the ad appears to promote racial stereotypes. For others, the dancing for freedom was a little close to the bone, given the lack of freedom afforded to Palestinians living under Israeli control and those trapped in Gaza.
This has to be the most ignorant and racist ad I've ever seen and I can't believe a whole company approved this.. I'm disgusted and at a loss of words. pic.twitter.com/oiY1XB27EH

— mariam (@fancydaisiesx) October 30, 2018
Ad depicts @BarRefaeli taking off a niqab followed by lyrics "finally freedom". This is disgusting. Expecting companies like @Cosmopolitan & @giorgioarmani to drop her, unless y'all are cool with a brand ambassador spreading messages like this. pic.twitter.com/fkHpdojOAI

— Mαrωα 🥀 (@MarwaBalkar) October 30, 2018
This is disgusting and absolutely inappropriate, especially considering the atrocities experienced by Palestinians on behalf of the Israeli government. Totally missed the mark. #ShameOnYou@BarRefaeli

— Alexis (@tmblingweed) October 30, 2018
A commercial launched by the Israeli super model @BarRefaeli pushing the Islamophopic narrative of the oppressed woman taking off her hijab and get liberated.In my society women who wear a hijab are just as free as every other women. So U know where to push ur freedom propaganda pic.twitter.com/Gp2qhURCRs

— Don Abdo ⚜️ (@Abd_HajYahia) October 30, 2018
Of course, Iran imposing conservative attire on women is indeed oppressive. But an Israeli model who does PR work for her country's war against the indigenous Palestinian population taking a cultural jab at Iran's culture is quite rich! https://t.co/miMv4bxgYL

— Omar Baddar (@OmarBaddar) October 31, 2018
Others questioned the accuracy of the ad, given the fact that the niqab is not commonly worn in Iran. Women in Iran are required to wear a hijab, which covers their hair. The niqab is more common in Gulf nations like Saudi Arabia.
The anti-Iranian scaremongering of the ad lines up with the agenda pursued by Israeli Prime Minister Benjamin Netanyahu, who considers Iran an enemy and attempts to drum up fears about its threat to the world.
In the lead-up to Tuesday's municipal elections, a number of campaign ads stoking anti-Muslim sentiment and scare tactics have appeared around Israel.
Like this story? Share it with a friend!
You can share this story on social media: