Oops! Ferry brings down massive port crane, causing explosion and fire (VIDEO)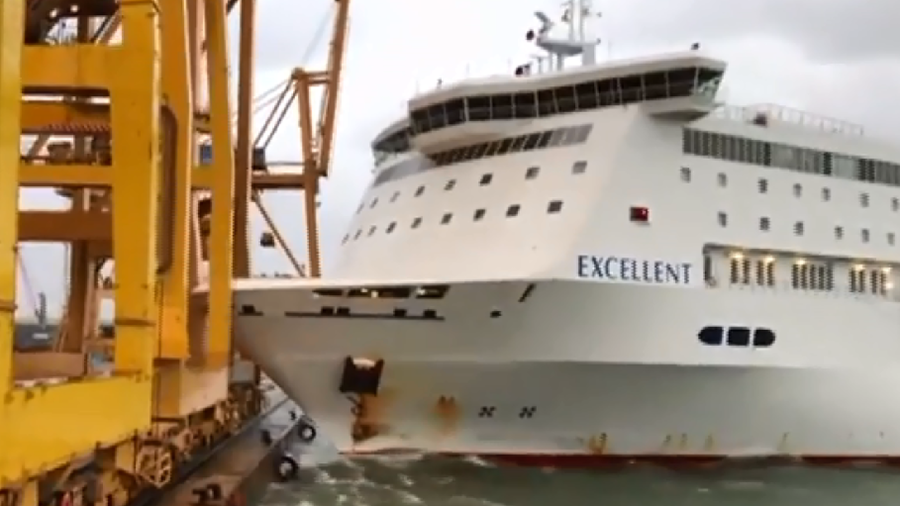 Strong winds have forced a large passenger ferry crash into a port dock, which in-turn caused a tall crane to topple over, prompting an explosion.
The disaster, which sent workers in Barcelona port running for their lives, was caught on video on Wednesday. It took a dozen firefighter crews three hours to put out the resulting blaze.
An unnamed Barcelona city official explained to AP that the blaze occurred due to containers with "hazardous materials" being affected. The black smoke from the fire was seen all across the Catalan capital.
There were no casualties either on the ground or aboard as a result of the incident, which the Barcelona Port described as "serious."
READ MORE: Russia's largest floating dock sinks, its tower crane makes hole in nation's sole aircraft carrier
The Italian company operating the ferry, called Excellent, said that the vessel "had to abort mooring maneuver due to bad weather conditions. When trying to get out of the port, the wind pushed it against a TCB crane." There were more than 400 passengers on the ferry at the moment of the crash, the Daily Mail reported.
Think your friends would be interested? Share this story!
You can share this story on social media: