Russian bombers up in the sky for NATO wargames, stir up UK jets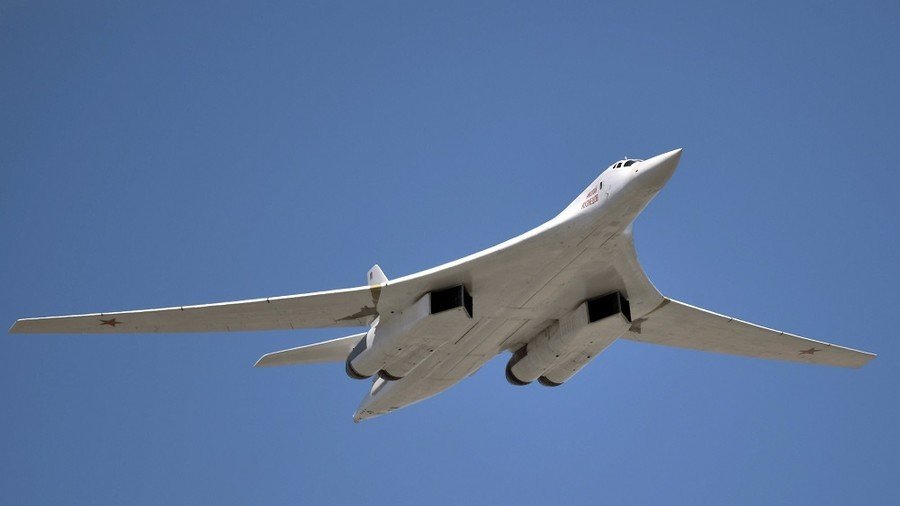 Two Russian Tu-160 'White Swan' bombers are running drills in international waters off the coast of Norway, rattling NATO amid massive 'Trident Juncture 2018' wargames on Russia's doorstep. UK jets were scrambled in response.
Long-range strategic bombers are conducting planned exercises in the Barents Sea and the Sea of Norway, the Russian Defense Ministry said on Wednesday, prompting the UK to send air patrols to the north of Scotland in case the 'Swans' stray south.
Russia filed a Notice to Airmen (NOTAM) of the exercise on Tuesday, saying that "rocket test firings" will be conducted in the Sea of Norway from 7 am to 2 pm GMT daily, November 1-3. The flights will take around ten hours, after which the bombers will return to base, the Russian Defense Ministry said.
The announcement has alarmed NATO, as some 50,000 troops are currently taking part in "Trident Juncture 2018" exercises in Norway. Also featuring 10,000 combat vehicles, 65 ships and 250 aircraft, this is the biggest such drill in decades.
READ MORE: 'Making Norway less safe': 50,000 troops engage in largest NATO drills in decades (VIDEOS)
A NATO "air policing" request prompted by the Russian flights saw Britain scramble jet fighters to the skies over Scotland on Wednesday, to watch out for bombers that NATO has designated 'Blackjack.'
The entirety of the Russian test zone is in international waters, though its closest point is only 13.9 nautical miles from the coast of Norway. However, the zone is right in the middle of areas designated as maritime and air training zones for "Trident Juncture," which cover most of Norway and even much of the neutral Sweden.
The NATO exercise will steer clear of the Arctic Circle, avoiding the northernmost part of Norway, which shares a border with Russia. Even so, the Russian Navy is making a point of conducting more test flights in the Barents Sea, also in international waters but north of Norway and well outside the NATO exercise zone. According to the Russian NOTAM, these drills will run from 5 am to 7 pm daily, November 6-9.
Russian long-range aviation pilots are regularly conducting drills over international waters, and all the flights are in strict accordance with international law and do not violate other countries' airspace, Moscow said on Wednesday.
Think your friends would be interested? Share this story!
You can share this story on social media: