Enormous 1.1kg emerald found worth an estimated $2.5mn (PHOTOS)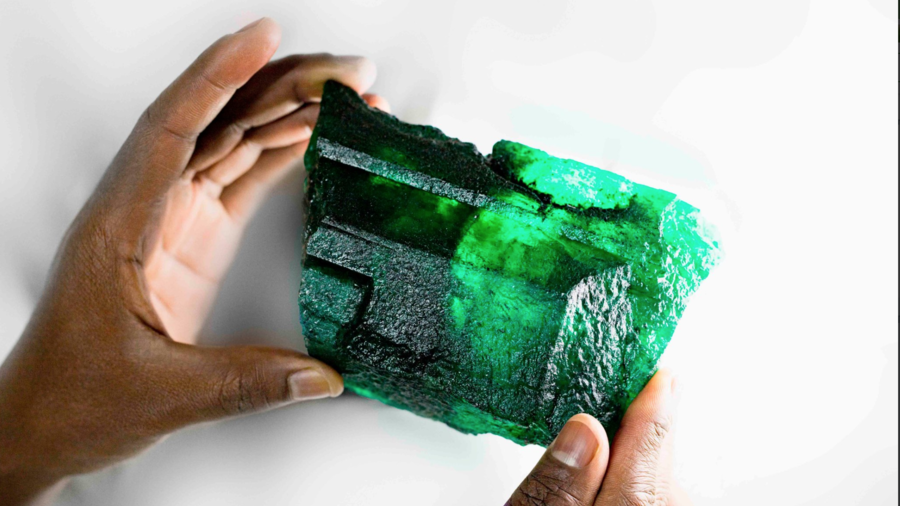 A giant and extremely rare emerald worth an estimated £2 million ($2,549,954) has been discovered at a mine in Zambia. The gemstone is a whopping 5,655 carats.
The 1.1kg emerald, named "Inkalamu," meaning lion in the local Bemba language, was discovered by geologist Debapriya Rakshit and miner Richard Kapeta on October 2 at Kagem, the world's largest emerald mine. The site is majority-owned by London-based Gemfields.
Naming is reserved for only the rarest and most valuable gems, and the lion emerald is only the second the company has ever named. The 6,225-carat "Insofu" or elephant stone, was its first to be named, back in 2010.
"The discovery of this exceptional gemstone is such an important moment both for us and for the emerald world," London-based gemologist at Gemfields Elena Basaglia said as cited by MSN news.
READ MORE: Putin launches giant gem mine in Russia's Far North (VIDEO)
The gemstone is almost twice the size of the world's largest rough diamond, the Cullinan, discovered in South Africa in 1905. Emeralds are far more common, however, and can be difficult to value, according to The Lusaka Times.
The gem is due to be sold at a private auction in Singapore in November, with 10 percent of the proceeds being donated to wildlife conservation projects the Zambian Carnivore Programme and the Niassa Carnivore Project in Mozambique.
For comparison, the Bahia emerald, which contains the largest single shard of the gem ever found, weighs approximately 341 kg (1,700,000 carats) and was once listed on eBay for the "Buy It Now" price of $75 million – but may be worth upwards of $370 million, CNN reported.
Like this story? Share it with a friend!