Right-wing Bolsonaro wins Brazilian election in landslide despite mass protests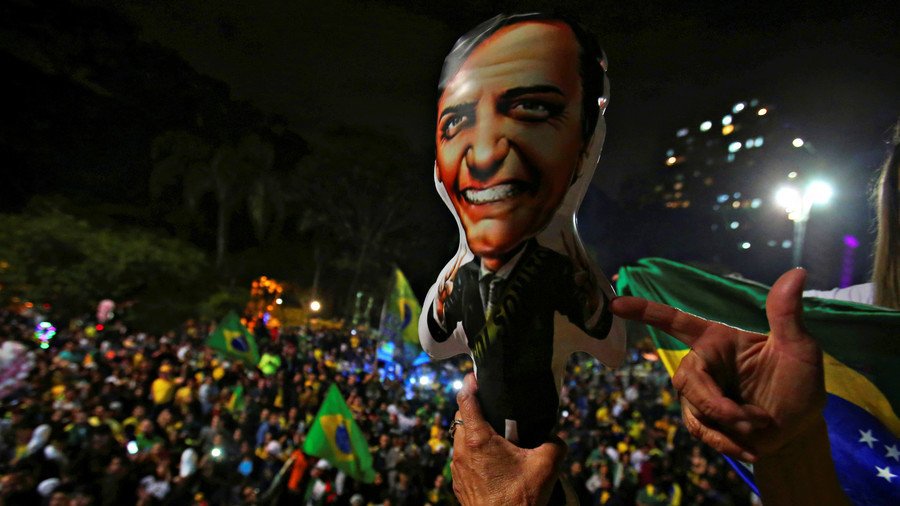 Jair Bolsonaro, the right-wing candidate from Brazil's Social Liberal Party (PSL), has won the presidential election run-off, beating Fernando Haddad of the Workers' Party after a campaign riddled with controversy.
With 99 percent of the ballots counted, Bolsonaro, dubbed "Tropical Trump" for his populist rhetoric, is ahead with 55.1 percent of the vote. His main opponent, left-leaning Haddad, is trailing with 44.9 percent.
Bolsonaro, a former army captain, has become a polarizing figure in Brazil because of his anti-LGBT, sexist and racist remarks.
He has represented the state of Rio de Janeiro in Brazil's congress since 1991.
The 63-year-old politician easily won the first round on October 7, finishing far ahead of the field with an overwhelming 48 percent. While it was not enough to secure the presidency in the first round, polls predicted a problem-free run-off victory for Bolsonaro.
History might have gone the other way if popular former President Luiz Inácio Lula da Silva had not been banned from running for office in early September. The Workers' Party founder, known simply as Lula, is serving a 12-year sentence for corruption. However, before his presidential bid was rejected by the court, Lula was leading the polls.
Bolsonaro's all but certain victory in the second round has sparked a vibrant protest movement that has seen thousands of women taking to streets to say "Ele nao" or "Not him" in Portuguese. Many of those who staunchly oppose Bolsonaro's ascent to the highest office point to an array of controversial statements he made through the years and which he never recanted.
A military man, Bolsonaro saw virtues in the dictatorship that ran Brazil in 1964-1985, saying in an interview in 2016 that "the dictatorship's mistake was to torture but not kill." His scandalous remarks on homosexuals, rape, African-Brazilians, women, refugees who he once branded "the scum of the earth," have resurfaced in the media, making international headlines.
Bolsonaro has come to power on the promise to fight corruption in a country that has been plagued by high-profile scandals in the recent years, as well as on the back of a liberal economic program. Bolsonaro vowed to reduce public debt by 20 percent through privatization of public companies, carry out pension reform, and lower the age of criminal responsibility from 18 to 16. Even before his election, Bolsonaro appointed banker Paulo Guedes to lead a newly-established economic ministry that would combine the current ministry of finance and planning with the ministry of industry and trade.
An advocate of gun rights, Bolsonaro has proposed loosening gun ownership laws, and threatened to unleash a war on drugs in Brazil.
Subscribe to RT newsletter to get stories the mainstream media won't tell you.
You can share this story on social media: