Brazil's frontrunner Bolsonaro accused of 'fraud & fake news campaign' ahead of runoff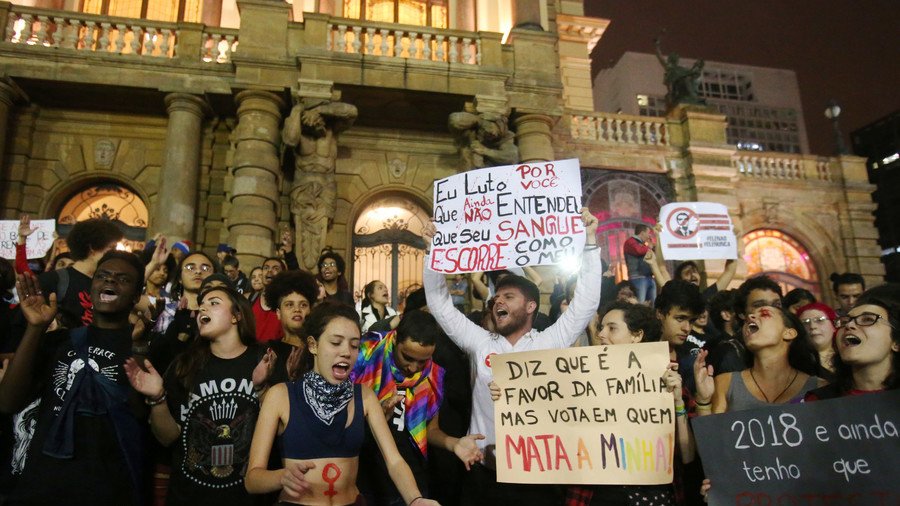 Brazil's trailing Workers Party candidate Fernando Haddad has accused the right-wing Jair Bolsonaro of organizing an illegal multi-million-dollar defamation campaign via WhatsApp ahead of next week's runoff presidential polls.
"We have identified a campaign of slander and defamation via WhatsApp and, given the mass of messages, we know that there was dirty money behind it, because it wasn't registered with the Supreme Electoral Tribunal," Haddad told a media conference in Sao Paulo, after Folha de S.Paulo newspaper uncovered a suspected election fraud.
In its report, the Brazilian publication alleged that a group of entrepreneurs have backed a campaign to use the popular messaging app to reach out to Haddad supporters and bombard them with fake news in an effort to coerce their votes. The publication claims that it discovered contracts worth up to $3.2 million (BRL 12 Million) each for companies to spam the virtual space with false information. Quickmobile, Yacows, Crock Services, and SMS Market are just some of the entities listed in the report that allegedly have been hired by Bolsonaro's camp to generate numbers that would later be used to send hundreds of millions of WhatsApp messages.
Such a practice is illegal under Brazilian law and has forced Haddad's Workers' Party (PT) to file an official complaint with the Superior Electoral Court (TSE). "We have information that 156 entrepreneurs are involved in this. People will be called to testify," Haddad tweeted, accusing his rival of "electoral crime to gain an advantage."
Haddad also demanded that Bolsonaro be eliminated and that the second round of election be contested between him and Ciro Gomes (PDT), who came in third with 12.5 percent of the vote in the first round.
READ MORE: Brazil's right-wing Bolsonaro narrowly misses first round win in presidential election
Bolsonaro, who – after barely missing the required majority in the first round – is currently leading with 59 percent of voter support versus 41 percent for his rival, has deflected the allegations made against him and the Social Liberal Party (PSL) using multiple outlets.
"The PT is not being harmed by fake news, but by TRUTH," he wrote on Twitter, accusing the PT of stealing money from the population and plunging the country into violence and chaos. Earlier, the right-wing presidential candidate tweeted that his camp only receives"voluntary support."
"I can't control it if an entrepreneur who is friendly to me is doing this. I know it's against the law. But I can't control it, I have no way of knowing about it and taking measures [to stop it]," Bolsonaro told O Antagonista website.
Later in the day, the 63-year old Congressman campaigning for anti-corruption used Facebook Live to once again deny the campaign fraud allegations, claiming he never solicited any financial contributions.
Trump of the Tropics: RT takes a look at Brazil's top presidential candidate (VIDEO)
Amid the electoral scandal, the Socialism and Liberty Party (PSOL) asked the TSE to temporarily restrict WhatsApp messaging for 120 million user accounts in Brazil, in order to combat the spread of 'fake news.'
WhatsApp, meanwhile, told Reuters that they are looking into the allegations. "WhatsApp has proactively banned hundreds of thousands of accounts during the Brazilian election period."
Like this story? Share it with a friend!
You can share this story on social media: