'Siberian coat'? Merkel confronts Putin with startling question in Russian (VIDEO)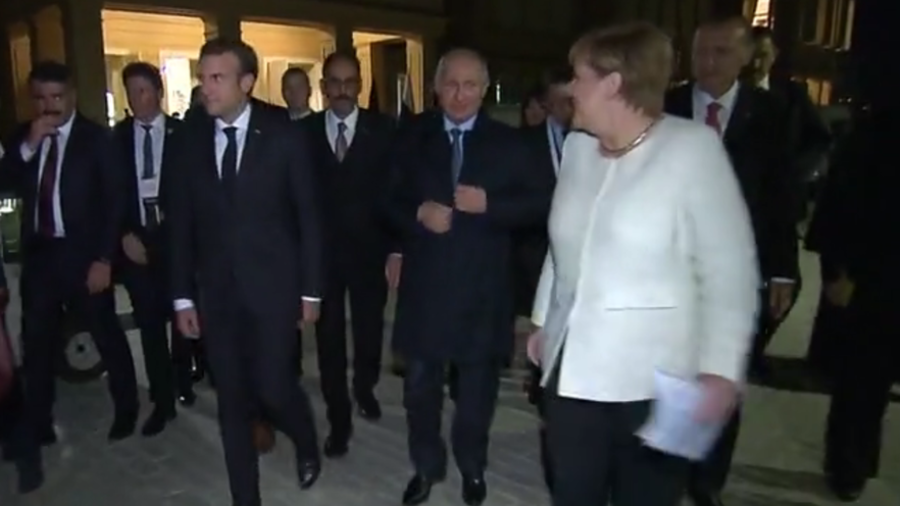 The Syrian crisis was not the only burning issue discussed at a summit in Istanbul. Angela Merkel inquired in Russian if Vladimir Putin was wearing a Siberian coat. The Twitterati found the Western view of Russia quite weird.
"Siberian coat?" the German Chancellor suddenly asked when she saw the Russian leader buttoning his coat. Putin smiled and explained that his coat was not Siberian.
For many foreigners, Russia is practically synonymous with Siberia – a land of bears, taiga, and 'eternal winters' that spans much of Eurasia and North Asia. So, apparently Putin's 'Siberian coat' seemed quite impressive to Chancellor Merkel, as such a garment was too hot for the 17 degrees Celsius in Istanbul.
The awkward situation didn't go unnoticed on Twitter, where people suggested that Putin should show Merkel Siberia after such a question. Many social media users noted that the German chancellor and the West in general have quite "a weird notion" about Russia.
Many Russians, especially those who live in the region, admitted that they had never heard of such a phenomenon as a 'Siberian coat,' and were puzzled by Merkel's joke.
Others ironically wrote that Putin had brought Siberian berries and nuts for the summit leaders, but failed to bring "the coat."
On Saturday, the leaders of Turkey, France, Germany and Russia met in Istanbul, where they worked out a common vision for steps towards reconciliation in war-torn Syria.
Think your friends would be interested? Share this story!
You can share this story on social media: