WATCH dozen of rockets being fired at Israel as IDF responds (VIDEO)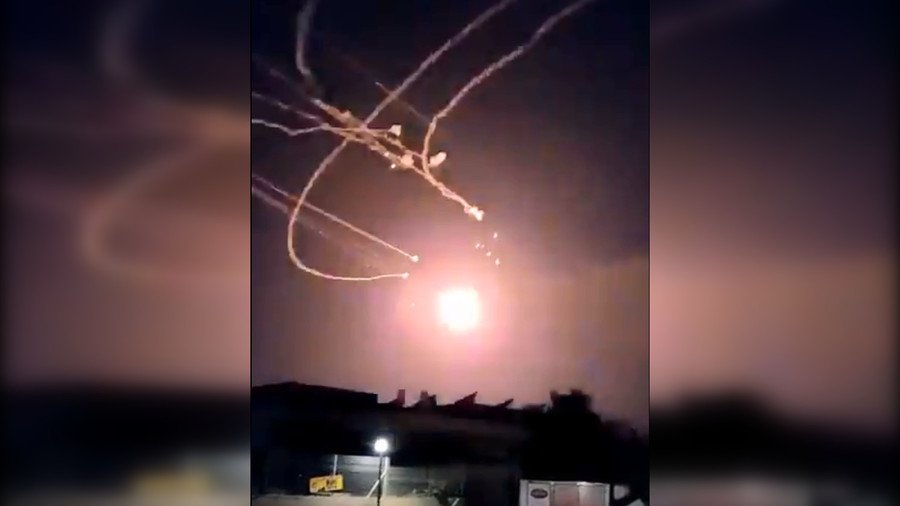 Footage released by the Israeli Defense Forces (IDF) shows more than a dozen of rockets being fired at southern Israel from the Gaza Strip. The attack took place late on Friday after five Palestinians were killed by the IDF.
The video shows the night sky being lit up with bright flashes as the rockets, which the IDF says are flying in from Gaza, are being intercepted by the Israeli air defenses. Some 10-12 rockets have been fired at area near the Israeli city of Sderot, the IDF said in a statement, adding that the Iron Dome missile defense systems intercepted "several" of the projectiles.
RAW FOOTAGE: This is what it looks like when rockets are intercepted right above your home.10-12 rockets were fired from #Gaza at #Israel, the Iron Dome aerial defense system intercepted several. pic.twitter.com/L1zx99R55c

— Israel Defense Forces (@IDFSpokesperson) October 26, 2018
There have been no reports about any casualties among the Israelis resulting from the attack. The incident came hours after the Palestinian authorities said that five people were killed by the IDF, the Israeli Haaretz daily reports.
In response to the rocket barrage, the IDF said it scrambled jets and helicopters to hit "terror targets" in Gaza.
In response to the rockets fired from #Gaza at #Israel over the last 2.5 hours, IDF fighter jets and attack helicopters have started striking terror targets in Gaza.

— Israel Defense Forces (@IDFSpokesperson) October 26, 2018
Four Palestinian protesters were reportedly killed on the border between Israel and Gaza while another person was killed as a result of a clash with the IDF in the West Bank.
Modern history shows Israel has resorted to force quite frequently:2002: 'Defensive Shield'2004: 'Operation Rainbow', 'Days of Penitence'2006: Lebanon War2008: 'Cast Lead'2014: 'Protective Edge'2018: ?https://t.co/0pcDN9dStr

— RT (@RT_com) October 24, 2018
Palestinians have been protesting along the fence with Israel for months, demanding the right to return to the land they see as rightfully theirs and an end to Israel's blockade of Gaza. More than 200 Palestinians have been killed during protests since March, with thousands more injured.
Israel already witnessed a rocket attack from Gaza last week. The attack that targeted the city of Be'er Sheva left three people injured, according to the local media. In retaliation, the IDF targeted eight locations in Gaza with air strikes. According to Palestinian health officials, three people were injured in Rafah by an Israeli air raid.
Like this story? Share it with a friend!
You can share this story on social media: