Momma grizzly bear charges man as his family looks on in horror (VIDEO)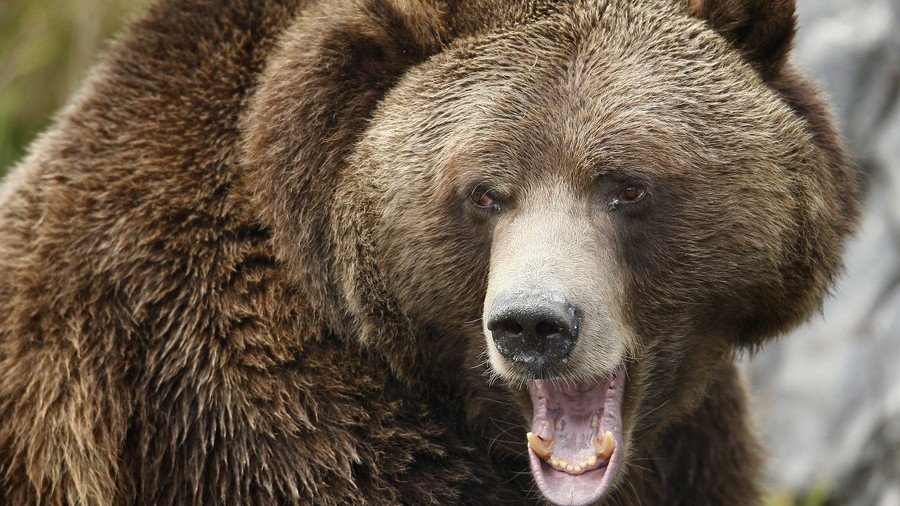 A Canadian family were besieged by a mother bear and her three cubs earlier this month, looking on helplessly as the sow charged husband and father Lawrence Michalchuk. Shocking footage of the encounter has now emerged online.
Michalchuk had just returned home from vacation to discover his children and their grandparents trapped in the house, with hungry bears roaming the gardens looking for food. The bears weren't deterred by improvised noisemakers Michalchuk had left his children, so he loaded up his 12-gauge shotgun with birdshot and went to chase the grizzlies off. Bad idea.
Michalchuk's first warning shots into the air appeared to briefly move the bears along, but when he began shouting at them to get them to hurry up, momma bear was not pleased.
"Then in an instant, the sow turned and charged, head down, ears back, and hair flat. I knew this was a serious charge and I only had one shot (of birdshot) left," Michalchuk wrote of the incident on a YouTube post, which has amassed over 130,000 views.
Drawing on over 30 years of experience in the Department of Fisheries, Michalchuk began retreating and waited for the perfect moment to fire directly at the bear, striking her in the leg and sending her flying to the ground, buying him enough time to flee to safety – but losing one of his crocs in the process.
"It happened so fast, all I remember is thinking, 'Boy, this is not a very good situation 'cause I don't think I'm gonna make it back to the house,'"Michalchuk told GlobalNews.
"To be honest with you, the thing that scared me the most is that my kids were going to witness this because they were watching it out the window. I just backed up and I was just praying that that shot would go off."
Neither Michalchuk nor his dog, which can be seen pacing within meters of the charging bear, were injured in the encounter which took place in Bella Coola, British Columbia in mid-October. He believes increased bear tourism in the area has made the animals more accustomed to humans and more likely to hang around houses in search of food.
Michalchuk later followed the bear family's tracks off his property.
"There was no blood, no hair and I know she'll be sore but she'll now think twice about approaching people," he wrote, adding, "I talked it over with the local conservation officers, showed them the video, and they said I was totally justified in defending myself and family."
Like this story? Share it with a friend!
You can share this story on social media: