Maduro blasts 'crazy extremist' Pence over claim Venezuela funded US-bound migrant caravan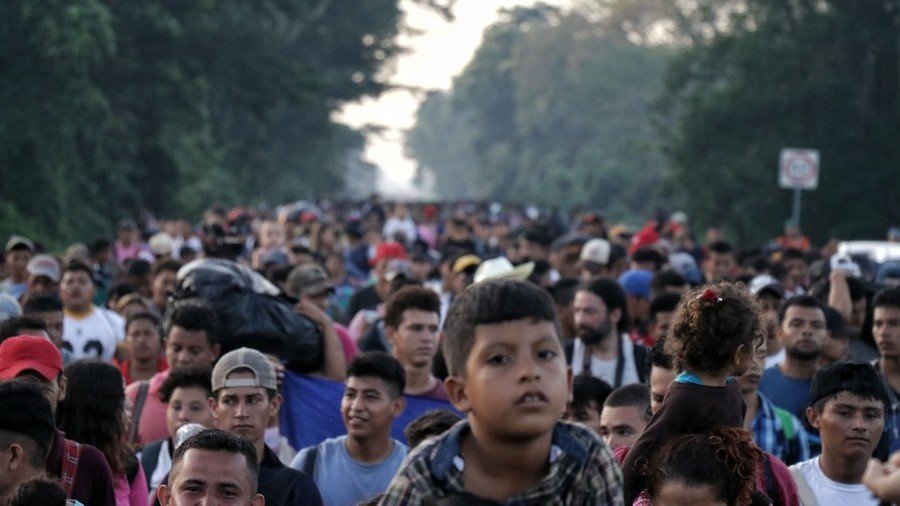 The Venezuelan leader has lashed out at US Vice-President Mike Pence, labeling him "extremist," and dismissed "laughable" allegations that Caracas is funding the migrant caravan heading to the US from Honduras.
President Nicolas Maduro appeared incensed by Pence's accusation that the Venezuelan government is backing hundreds of mostly Latin American migrants who are seeking to enter the US through the Mexican border.
READ MORE: 'Border Patrol cosplay': Fox News reporter hides in bushes, foils migrant border crossing
In a speech broadcast on state TV on Wednesday, Maduro said that Pence is playing a familiar card by accusing him "of everything that happens to them."
Styling Venezuela as a bogeyman would something he could laugh at if "it had not been an extremist saying it, an extremist madman like Mike Pence," he said.
Maduro launched a scathing attack on what he called Pence's "imperialist paranoia," blasting the accusations as a pretext for a military invasion into Venezuela.
And they are capable of doing anything in the world, I warn the world about the paranoia of Mike Pence and the extremist sectors of the United States government against Venezuela. He has an obsession because they have not been able to defeat us, they have not been able to make us surrender, nor will we ever be able to do it.
In an interview with the Washington Post on Tuesday, Pence said he was told by Honduran President Juan Orlando Hernandez that the caravan, which at the time numbered over 7,000 people, was organized by "leftist groups," that were "financed by Venezuela."
Meanwhile, the number of people in the caravan has been dwindling, according to the Mexican authorities. They reported on Wednesday that only 3,630 still intend to reach the US border with Mexico. 1,743 separated from the caravan and filed for asylum in Mexico, while another 116 people have agreed to undergo a deportation process.
However, the Mexico government's estimates are almost five times lower than the 14,000 people reported by Mexico's El Universal newspaper on Monday.
The caravan and its rapid movement towards the US border has become a hot topic, frequently picked up by Trump. On Monday, the US president tweeted that "criminals and unknown Middle Easterners are mixed in" the crowd.
Sadly, it looks like Mexico's Police and Military are unable to stop the Caravan heading to the Southern Border of the United States. Criminals and unknown Middle Easterners are mixed in. I have alerted Border Patrol and Military that this is a National Emergy. Must change laws!

— Donald J. Trump (@realDonaldTrump) October 22, 2018
When pressed to produce any proof though, Trump backed down, saying that while Middle Easterners "could very well be" in the caravan, he has no concrete facts to back it up.
Think your friends would be interested? Share this story!
You can share this story on social media: