Israeli forces arrest monk & forcibly remove others protesting in East Jerusalem (VIDEO)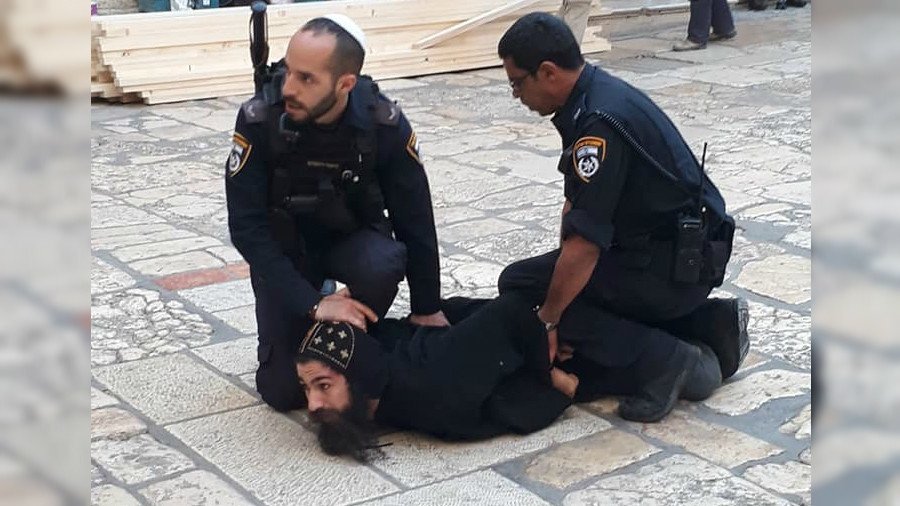 Video footage has captured Israeli police manhandling a group of Coptic Orthodox monks who were protesting outside the Church of the Holy Sepulchre in East Jerusalem's Old City.
Israeli forces can be seen dragging Monk Macarius Orshalemy along the ground before forcibly handcuffing him. The monk is pinned down for several minutes before being yanked to his feet and carried away.
The protest was organized by the Coptic Orthodox Church after it was denied permission to carry out renovation works that are needed within the monastery of Coptic Sultan. Instead, Israel said the Israel Antiquities Authority will carry out the work. The authority has been accused of using the renovation as a means to access the holy site.
Alarming images emerge from #Jerusalem of unprecedented and unacceptable violence used by Israeli police on #Coptic monks, arising from the execution of an order that contravenes a standing Israeli court property ruling in favour of the Coptic Orthodox Patriarchate of Jerusalem. pic.twitter.com/sIv1vX2BFu

— Archbishop Angaelos ن (@BishopAngaelos) October 24, 2018
Several priests were injured as they were forcibly removed from where they were blocking municipal workers from entering the area. After the arrest of Monk Macarius Orshalemy authorities allowed Israeli workers into the site.
READ MORE: 5 times Israel 'had no choice' and went to war
"Since they didn't listen to the request and instructions from police, an order was given to clear them away during the course of which police required to arrest one of them after he refused to be removed, blatantly violated public order and even tried to attack the police," Israeli police said, Times of Israel reports.
Like this story? Share it with a friend!
You can share this story on social media: