China turns legendary Soviet plane into 'world's heaviest' transport drone (VIDEO)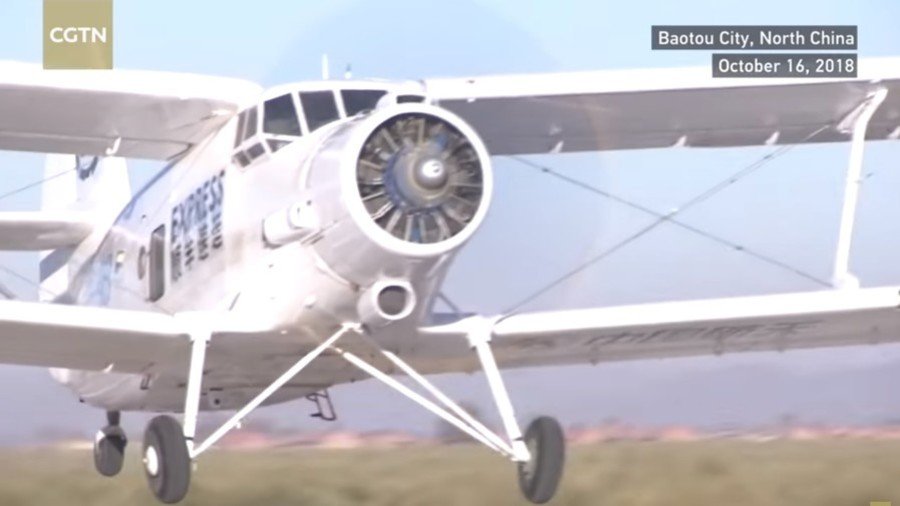 The iconic Soviet An-2, the world's longest-produced plane, has been turned into a drone by China and is now the biggest transport UAV in the skies, according to local media.
The small single-engine biplane started its outstanding career in 1947 and became a civilian workhorse in many countries of the former Soviet bloc, thanks to its reliability, virtually non-existent requirements for ground infrastructure, and affordability. It's best known as the Kukuruznik in Russia, or 'corn crop duster', due to its use in agriculture.
Chinese producers have been building copies of the plane since 1957, and one of those, the Shifei Y5B, has been given unmanned flight capability by the Chinese Academy of Aerospace Electronics Technology.
The drone version is called the Feihong-98 (FH-98), and it made its maiden flight at Baotou test site in North China's Inner Mongolia autonomous region last Tuesday, according to Chinese media.
The FG-98 has a maximum takeoff weight of 5.25 tons, a maximum capacity of 1.5 tons, and maximum range of 1,200 kilometers. These characteristics make it the world's biggest transport drone, while its ability to land on pretty much any more or less flat surface 150 meters long make it a potential backbone for a national drone logistics network. FG-98s can deliver bulk cargoes to various regions of China, where individual packages would be loaded into smaller quadcopters for the final stage of delivery.
China is one of the leading designers and producers of unmanned aircraft, both for civilian and military use, rivaling countries like the US and Israel in the area. Also, being a leading manufacturer of consumer goods, China has naturally developed an edge in e-commerce. Large online shops like Alibaba seek opportunities to better cover China's domestic market with their distribution networks, but deliveries to some rural areas with underdeveloped transport infrastructure hampers them. Air delivery via drones is a potential solution to this problem.
Think your friends would be interested? Share this story!
You can share this story on social media: