China presents new killer drone 'more efficient & powerful' than American Reaper (VIDEO)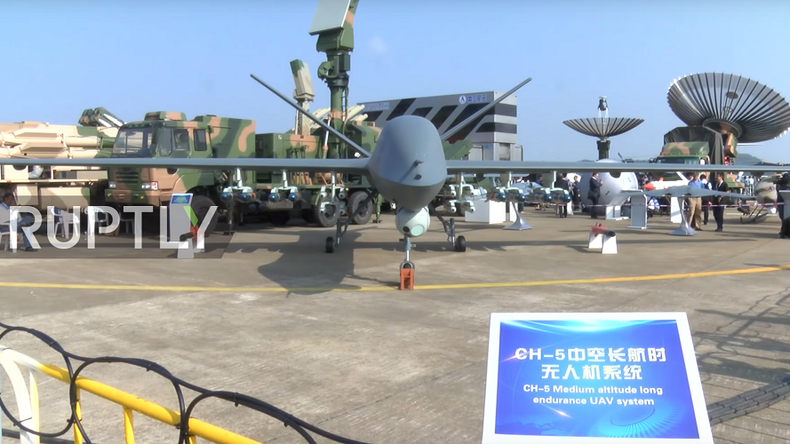 Beijing says it is ready to export its brand new CH-5 drone across the world, after the UAV, which it claims has superior tech specs to equivalent US models, was officially introduced at the China International Aviation & Aerospace Exhibition in Zhuhai.
READ MORE: Drone operator job ads suggest US military is flying kill missions from Britain
The CH-5, which was keenly awaited after a video of its maiden flight was broadcast by Chinese networks last year, "can perform whatever operations the MQ-9 Reaper can, and is even better than the US vehicle when it comes to flight duration and operational efficiency," said Shi Wen, chief designer of the CH series at China Academy of Aerospace Aerodynamics, to local media ahead of the exhibition.
The drone has a wingspan of 21 meters – twice as big as its predecessors in the series – and can stay in the air for 60 hours. It has a maximum range of 6,500 km, which Shi says will soon expand to 10,000 km and 120 hours of flight, giving it the longest range of all hunter-killer drones. It will also carry about 1,000 kg of equipment and up to 24 missiles.

In comparison, the MQ-9 Reaper, which has been in service since 2007, can fly for 27 hours, and has a wingspan of 20 meters (though a bigger model with longer flight time is currently being tested). The difference is explained by China's choice to use a less powerful but more fuel-efficient engine.
China says that it is ready not only to export the drone, but also to license the technology to make it.

"Several foreign nations have expressed intentions to purchase the CH-5, and we are in talks with them," Shi said.

According to Shi, previous CH iterations have been exported to over 10 countries, and are currently used by Iraq, Nigeria and Egypt.

"Another advantage is that the CH-5 is capable of making a joint strike together with its predecessors, the CH-3 and CH-4, because they can share the same data link and control system. Therefore, it is very easy for current users of the CH-3 and CH-4 to introduce and integrate the CH-5 into their drone network," Shi boasted.

Shi said that the drone will suit all countries fighting "terrorists" across the Middle East, but said that China was not just planning to flood developing countries with cheaper knock-offs, but to become technological leaders in the rapidly-growing industry.
READ MORE: China wants to buy Russian rocket engines as BRICS boosts space cooperation

"We may be a little inexpensive, but we do win by our reliability, not our lower price," Shi said.
You can share this story on social media: