Barking mad: Adventure-seeking canine befriends family of bears (VIDEO)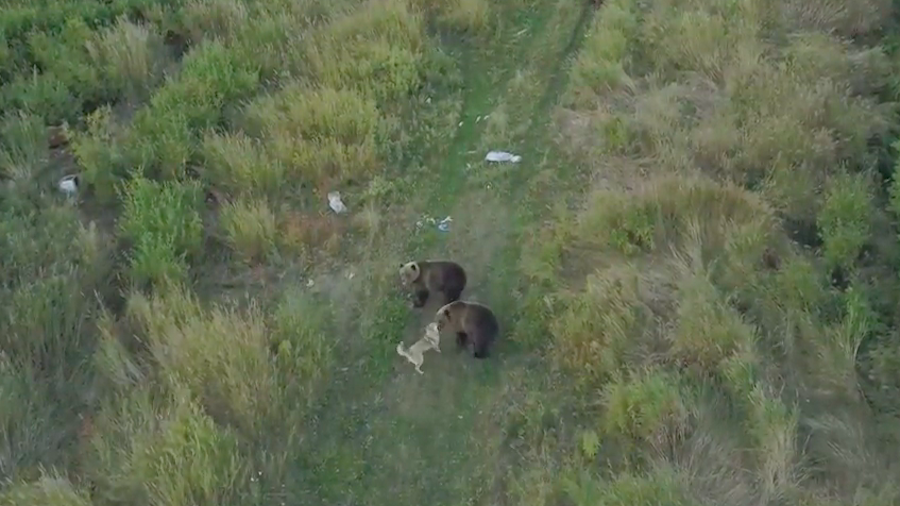 When voyaging through Russia's wild frontier, one might do well to avoid getting too close to huge bears – that is unless you're a mischievous pup with the ability to charm your way into their trust.
The bizarre moment when a dog was able to frolic around safely with a group of bears has been captured by a drone operator near the village of Ust-Kamchatsk in Kamchatka.
READ MORE: WATCH cute robot dog shaking booty… while probably plotting destruction of human race (VIDEO)
The Russian Far East peninsula is teeming with wildlife, with the protected area said to be populated by between 10,000-14,000 brown bears.
Amazingly, the plucky canine appears to have avoided being torn to pieces by the forest-dwellers. Instead, the cheeky dog was filmed sizing up his massive companions before going on a ramble through the woods.
READ MORE: Science allows us to hear Antarctica's haunting ice song for the 1st time (AUDIO)
At one stage, a bear stands ominously on its back legs and appears to stare at the dog as though it could be a delicious meal. However, the bears and the pup are later seen wandering through the sparse landscape together and play-wrestling on the grass. All together now: Ahhhh cute.
Like this story? Share it with a friend!