Kristen Bell slams THAT Snow White kiss… and the internet fires back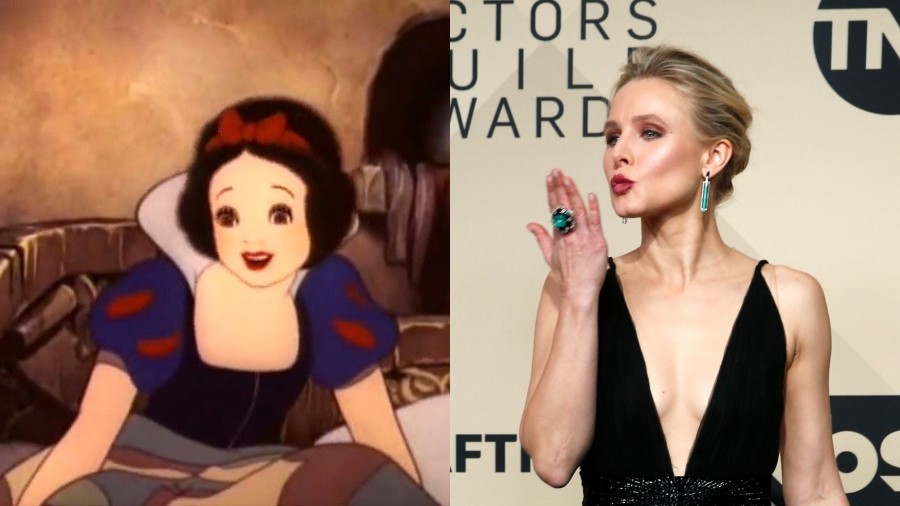 Disney princess Kristen Bell has taken aim at Snow White, questioning the iconic fairytale's messages about consent and the story's appropriateness in a modern context.
The 38-year-old actress, who stars as Princess Anna in the Disney smash-hit 'Frozen,' took the classic cartoon to task in an interview with Parenting magazine.
She told the magazine that she always raises questions about the tale's topic content (in particular, that kiss) with her and husband Dax Shepard's two daughters, Lincoln, 5, and Delta, 3.
"Every time we close Snow White I look at my girls and ask, 'Don't you think it's weird that Snow White didn't ask the old witch why she needed to eat the apple? Or where she got that apple?'
"I say, 'I would never take food from a stranger, would you?' And my kids are like, 'No!' And I'm like, 'Okay, I'm doing something right,'" the film star told the magazine.
"Don't you think that it's weird that the prince kisses Snow White without her permission? Because you cannot kiss someone if they're sleeping!" Bell said she asks her daughters.
In the Brothers Grimm fairytale, brought to life again in 1937 by Disney, Snow White falls into a deep, death-like slumber after eating a poisoned apple from a witch who is jealous of her beauty. She remains asleep until a prince comes and gives her a true love's kiss – at which point she awakens and (spoiler alert) they live happily ever after.
Bell's comments have not gone down well online, with the actress told to 'Let it go' on social media for her approach to fairytales in the #MeToo era.
Omg can we stop blaming disney films for people not understanding consent. I grew up with them but you dont catch me creeping round the local pond trying to kiss an actual frog 🤔 https://t.co/TCSel3jz2a

— Katrina (@Katrina_McC) October 18, 2018
Netizen negativity was also directed at British actress Keira Knightley, who echoed Bell's sentiments in an interview with Ellen DeGeneres.
Kristen Bell takes offense to a Disney prince kissing Snow White, but oddly enough she had no qualms playing the voice of Gossip Girl, a show where teens greeted each other with open legs and non-consensual kissing (among other things) was a common theme. XOXO, Checkmate.

— Aliah (@AliahXtine) October 18, 2018
The 'Pirates of the Caribbean' star (also a Disney film) told the talk show host that little Edie Knightley Righton is not allowed to watch 'Cinderella' or 'The Little Mermaid.'
Knightley told DeGeneres that Cinderella "waits around for a rich guy to rescue her. Don't! Rescue yourself. Obviously!"
Kristen Bell & Keira Knightley saying Snow White sends the wrong message...The story evolves around Attempted Murder by Poisoning, Witchcraft, Dwarfs with personality disorders & a talking mirror...But a Kiss is the problem?OK, let's change the ending.... pic.twitter.com/7RnWJ0XmIg

— LordScott (@LindquistLord) October 18, 2018
She weighed in on 'The Little Mermaid': "I mean, the songs are great, but do not give your voice up for a man. Hello!"
I think The Little Mermaid teaches wrong values: girl gives up her voice to get legs to hook a boy she's never met - using only her looks! Also, unless he marries her right away, an evil witch gets the entire 'under the sea' kingdom. Worst. Deal. Ever. https://t.co/qISy0ZOSmX

— Jen Bukowsky (@esqonfire) October 18, 2018
Some on social media have thrown their support behind Bell and Knightley, praising the two celebs for trying to instill critical thinking about consent in their little ladies from an early age.
I adore @Disney films but @IMKristenBell is right these films have such power to influence young minds, I have grown to resent just how inappropriate the messaging is. They must take a bigger responsibility for how young people see and value themselves today https://t.co/UO1fnp4sXn

— Sophie Jewett (@SophieChocLady) October 18, 2018
Bell wasn't one to take the criticism of her parenting lying down – the 'Frozen' star clapped back, stating that she finds "the outrage annoying and misplaced."
Thank u Margot, I find the outrage annoying and misplaced as well. I'm a mom who wants my girls to possess critical thinking and aks a ton of questions. So that's what we do when we read books. https://t.co/wptcM2DfLt

— Kristen Bell (@IMKristenBell) October 18, 2018
It's cute that you guys are making jokes about something that I feel is very important. I'd be happy to send you copies and snow white and frozen, and you can see the differences. How far the example set for women has come. It might enlighten your point of view.

— Kristen Bell (@IMKristenBell) October 18, 2018
Think your friends would be interested? Share this story!