'Is there a cash prize?' RT's top 10 Russophobes of 2018 revel in their new official status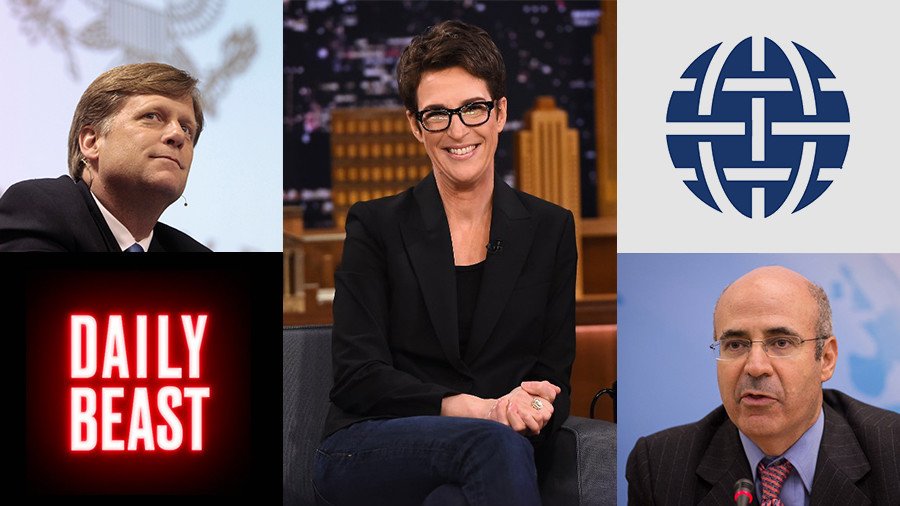 RT's list of the top 10 Russophobes of 2018 has received a rapturous welcome by many of those lucky enough to make the list. It has been perceived as justification of their work aimed at undermining trust in an entire nation.
Here is a selection of just some of the responses from RT's top Russophobes 2018.
Atlantic Council
The staff over at the Atlantic Council were over the moon after claiming top spot. While Ben Nimmo was singled out for his excellent work in the field, it seems the organization as a whole feels their inclusion is welcome recognition of their NATO-funded efforts to undermine.
The council's Geysha Gonzalez tweeted that "Our work and our hope is for a better Russia for the Russian people."
Oh yes, because if there's one thing Russians love, it's organizations like the Atlantic Council telling them how their country could be better.
Conservative Party
There's been a subdued response from Britain's governing Tory party so far. Not even Defense Secretary Gavin Williamson has responded to tell RT to 'go away and stop being a big meany.' They're probably all busy messing up Brexit, but surely they could show a little more enthusiasm for the best electoral outcome they're likely to be seeing for some time.
Rachel Maddow
MSNBC host Rachel Maddow has not reacted directly to her third-place finish, but since the list has been published she has been tweeting about Donald Trump possibly getting electoral help from the UAE and Saudi Arabia. Clearly her inclusion has made her see the error of her ways, and she's decided to go after Arabs instead in order to stay off the 2019 list.
Skripal pundits
Of all the pundits to make the list in the wake of the Salisbury poisoning, Andrew Foxall at the Henry Jackson Society, an organization renowned for its dedication to impartiality, was the most giddy to receive recognition, tweeting three times on the subject. He even concocted what seemed to be a short acceptance speech to his fellow echo-chamber members. Well done, Andrew.
UK fake news inquiry
While Britain's Conservative Party hasn't had the decency to officially recognize its inclusion on RT's list, Conservative MP and chairman of the parliamentary fake news committee, Damian Collins MP, let it be known he is over the moon to have made the cut. If nothing else, at least it shows that someone read his report. "We must be doing something right," he tweeted, still obviously unsure what exactly that 'something' is.
Michael McFaul
Former ambassador Michael McFaul appears happier than anyone to have made the list, predictably using it to give his book a plug and jokingly (we think) asking whether there was a cash prize. In fact, he was so happy he tweeted about and retweeted the list around 10 times. Thanks for the help, Mike, but be careful, Ben Nimmo will be labeling you a Kremlin bot if you're not careful.
The Daily Beast
Just like at the Atlantic Council, the Daily Beast really seemed to accept the accolade of being on the list as one close-knit organization. There was even a little congratulatory story about it on their site, which may be the first genuinely verified story linked to Russia that they've published in some time.
Hillary Clinton
Just like last year, we've heard nothing from Hillary, which leaves us to assume that her personal Twitter password remains on that second server somewhere.
Bill Browder
Bill Browder responded to the list so fast, one might suspect he was sat at home refreshing the RT website. He made the usual Russophobe justification about being "very fond of Russians," and said he was "relieved that the Kremlin mouthpiece didn't leave me off this year." Expect a book about it soon.
Justin Trudeau
The Canadian prime minister has not acknowledged his place in RT's top 10, which is frankly very hurtful from someone who prides himself on not upsetting anyone, whatever their identity. Russians are people too!
Just a quick footnote for Louise Mensch, who didn't make this year's list, but continues to keep last year's list pinned to the top of her Twitter feed with such pride. Don't give up, there's always next year.
Subscribe to RT newsletter to get stories the mainstream media won't tell you.
You can share this story on social media: