American serviceman killed in Ukrainian Su-27 crash during war games with NATO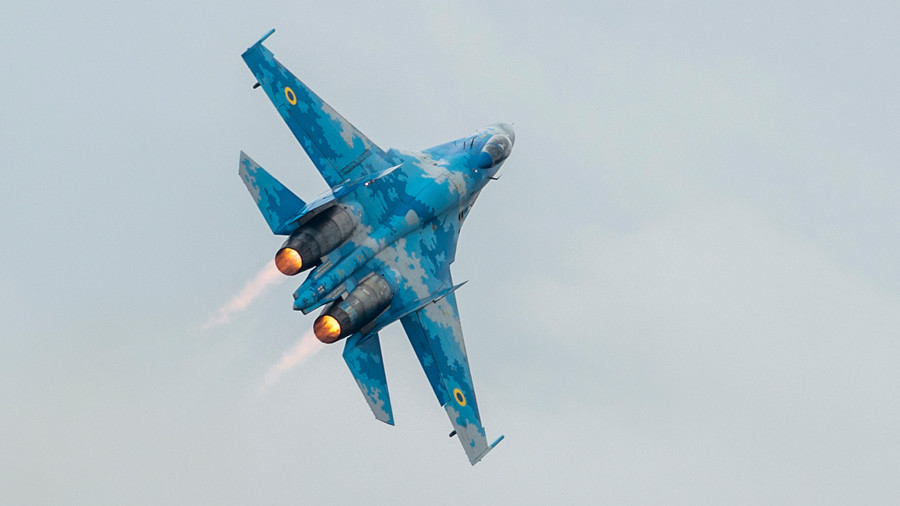 An American serviceman has been killed in a Su-27 fighter jet crash in Ukraine, Kiev's military prosecutor has confirmed. The jet was taking part in a military exercise with NATO.
The Su-27 crashed during a simulated combat flight. The Ukrainian General Staff initially issued a statement on Facebook that mentioned the citizenships of the two pilots.
"We regret to inform that according to the rescue team, the bodies of two pilots have been discovered: one is a serviceman of the Ukrainian Air Force, the other is a member of the US National Guard," it said.
Kiev has been reticent about the crash, sharing almost no details of the incident, in an apparent effort to avoid an international scandal. When the Ukrainian General Staff finally got the courage to issue a statement, it was quick to take it offline after indicating that both a Ukrainian pilot and an American pilot were on board the jet. The same message was first published and then deleted by the military prosecutor of Ukraine.
The US Air Force, which confirmed their service member was "involved" in the incident, is now investigating the crash. "We understand there was an American in the backseat of the aircraft," US Air Forces Europe-Africa said in a statement.
Meanwhile, Ukrainian police warned that the crashed fighter jet may have munitions on board that could still detonate, a local UNN news agency reported. "It is a military aircraft. There could have been munitions on board that could detonate," a police representative told the UNN, explaining why police officers had to cordon off the crash site and ban journalists from approaching the area.
An eyewitness to the crash told the 20 Khvilin website that the Su-27 was spinning as it was going down. "It began rotating when it was flying above the settlement. The pilots were drawing the plane into the field" away from the village, she said.
The jet was taking part in Clear Sky 2018, a joint military exercise with NATO members taking place October 8 through 19 in Western Ukraine. Other participants include the US, Belgium, the UK, Denmark, Poland, Estonia, the Netherlands, Poland and Romania.
When advertising the drills on his Facebook page, President Petro Poroshenko said NATO soldiers have "a lot to learn" from Ukrainians, and warned that, if Russia launched airstrikes against Ukraine, the cost would be "very high."
Subscribe to RT newsletter to get stories the mainstream media won't tell you.