Star Arab-Jewish marriage not ok, because 'Jews didn't recover from Holocaust' – top Israeli MP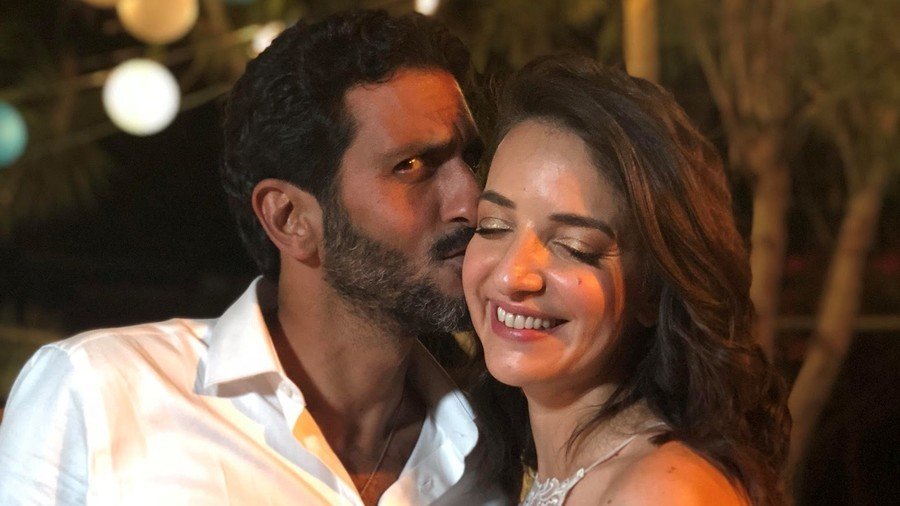 A low-key wedding of an Arab Israeli TV host and a Jewish actor didn't sit well with a top Israeli politician who said mixed marriages like this are a blow for Jews still suffering from the losses of the Holocaust.
Marriages between Jews and non-Jews are a problem for Yair Lapid, chairman of the centrist Yesh Atid (Hebrew for 'There is Future') party and a former finance minister.
"I have a problem with mixed marriage," he said, as cited by local media. Doubling down on the statement, the top official said: "We haven't recovered from the Holocaust yet." He produced the diatribe when asked for his take on recent celebrity wedding of Arab Israeli broadcaster Lucy Aharish to Jewish actor Tsahi Halevi.
Lapid, who was once ranked first in the list of the most influential Jews in the world, claimed the Jewish people suffered numerical losses during the Nazi-led genocide. Now, it is time for them "to grow and not shrink," the top-tier politician said.
Aharish's and Halevi's love affair began four years ago, but the two did not talk much about their engagement to avoid controversy. As news of their wedding broke earlier last week, some Israeli MPs rushed to spew vitriol on the pair.
Oren Hazan, member of the center-right Likud party, took to Twitter to blame Aharish for the crime of "seducing a Jewish soul with the goal of harming our country." According to Hazan, the Arab Israeli TV star intended to "Islamize" her husband and damage his "Jewish dynasty."
Interior Minister Aryeh Deri, for his part, also publicly berated Aharish and Halevi, telling Army Radio that the celebrity union was "not the right thing to do." Offering that assimilation "is consuming the Jewish people," he predicted that the couple's children would face "serious problems" in Israel, and urged Aharish to convert to Judaism.
Aharish, born to a Muslim family, has garnered the fame of becoming the first Arab news anchor on Israel's mainstream Channel 10. She also co-hosted an array of talk shows on the Channel 2 and i24 media outlets.
Previously, she described herself as a devout Muslim and a supporter of the right-wing Arab community in Jerusalem, according to Haaretz.
Halevi, the Arab celebrity's husband, is a renowned Israeli film and television actor and a singer. He is best known for his appearance in 'Fauda', an Israeli political-thriller television series. In it, Halevi plays a member of a secretive military unit whose members are trained to assimilate among the local Arab population.
Interestingly, the man reportedly served as an officer in the elite special operations force called Duvdevan – the unit in charge of undercover operations in urban areas, during which they often wear Arab civilian fatigues as a disguise.
Like this story? Share it with a friend!
You can share this story on social media: