Applause & bashing on Twitter after transgender woman wins female cycling world championship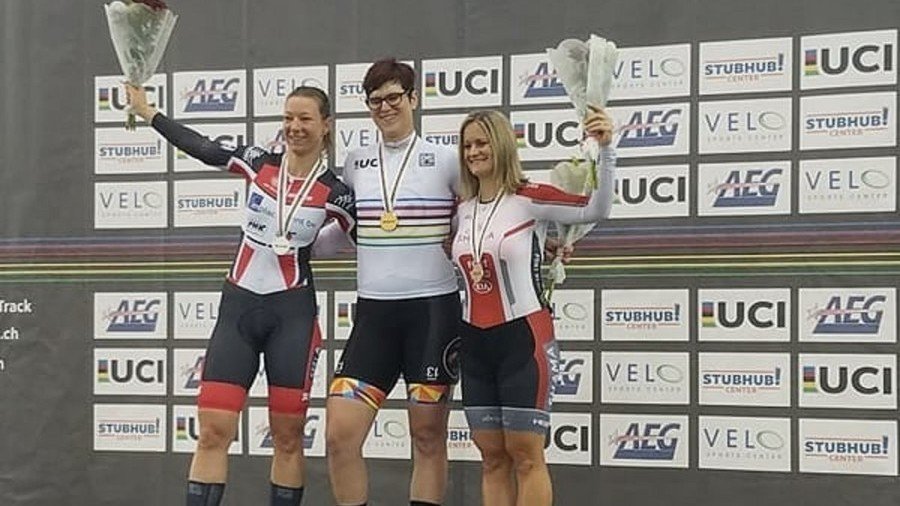 Canadian Rachel McKinnon finished ahead of the field at the women's sprint 35-39 age bracket at the world cycling championship on Sunday. Many have praised her achievement, but some say it was cheating, since she was born male.
McKinnon is the "first" transgender woman ever to win gold at the UCI Masters Track Cycling World Championships. The event was organized by USA Cycling and took place in Los Angeles under the auspices of the International Cycling Federation (ICF).
Before the final race, McKinnon set a world record in the quarterfinals – which only stood for 10 minutes.
She celebrated her victory by posting a photo of herself on the podium with the silver and bronze medalists.
The victory was praised by some, who congratulated her and called it an "incredible achievement."
Others, however, claim the champ has an unfair advantage and should not be allowed to compete with women. Some commenters took aim at McKinnon's size, pointing out the disparity between her and her competitors.
Critics say the cyclists that competed against her were robbed of victory because she is biologically male.
McKinnon fired back, tweeting that she has to keep "an unhealthily low endogenous testosterone value" which is "virtually undetectable."
She also claimed the cyclists who finished 2nd and 4th in the race were "strong supporters" of hers, and accused her critics of bigotry and transphobia.
Apart from being a professional athlete, McKinnon is a PhD in philosophy and focuses on gender studies.
She argues that transgender women should be allowed to compete at the Olympics without being required to maintain their testosterone at a certain level.
"This is bigger than sports and it's about human rights," McKinnon told US Today in January, arguing that there is no way to measure the advantage testosterone gives transgender athletes. She went further, comparing discrimination against transgender athletes to racism in sports.
You can share this story on social media: