Massive blast sets oil refinery ablaze (VIDEOS, PHOTOS)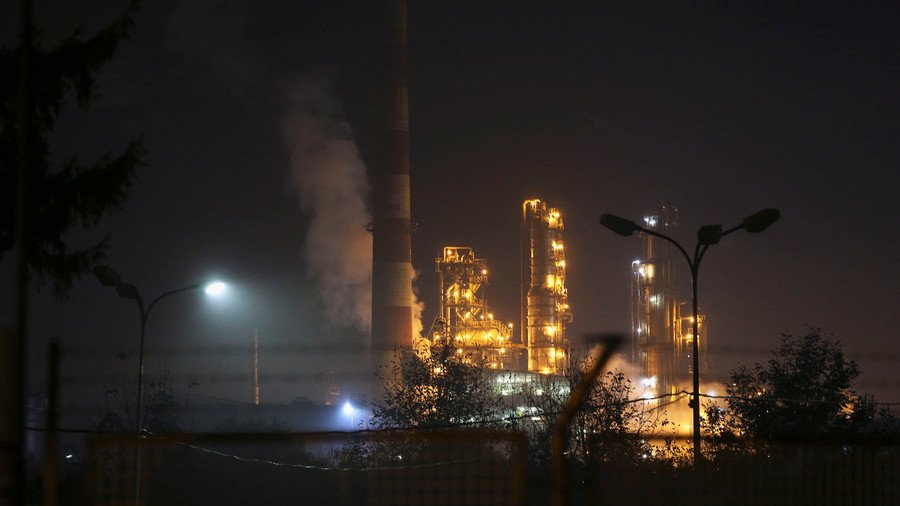 At least eight workers have been injured after a series of explosions struck an oil-processing plant in northern Bosnia and Herzegovina. Photos and videos show the plant engulfed in flames and black smoke billowing from the fire.
The first explosion hit one of the production facilities on the territory of the Brod oil refinery around 9.30 pm. The fighters called to the scene have since contained the blaze.
Witnesses say that the explosion was so powerful some thought the city was jolted by an earthquake. The blasts shattered some of the windows in the nearby buildings.
One witnesses said that the sound of the initial explosion was so loud that it resembled a bombing.
"The explosion was extremely loud, as if war started again," the witness said, as cited by Večernji List newspaper.
The bangs were also heard in eastern Croatia, in the city of Slavonski Brod, located just across the Sava River from the Bosnian town.
Eight people have been taken to hospital and have been treated for minor injuries in the aftermath of the explosion.
Nobody was killed in the incident, that cause of which is yet to be determined, according to the city authorities.
It was reported that a foul stench spread in the vicinity of the plant.
Slavonski Brod's mayor Mirko Duspara assured the locals that the Croatian city has not been affected by the toxic smells from the explosion. The government has been monitoring the concentration of the harmful chemicals in the air and it is within the normal limits at present, Duspara said, noting that wind is not expected to blow towards the city. At the same time, he called on the citizens to shut their windows and stay home until the fire is put out. He also offered help to the Bosnian town with the evacuation of the injured that can be accommodated in the Croatian hospitals.
Subscribe to RT newsletter to get stories the mainstream media won't tell you.
You can share this story on social media: