VIDEO: Bridge collapses on world's longest railway linking Russia's west & east
Published time: 9 Oct, 2018 03:52
Edited time: 9 Oct, 2018 12:08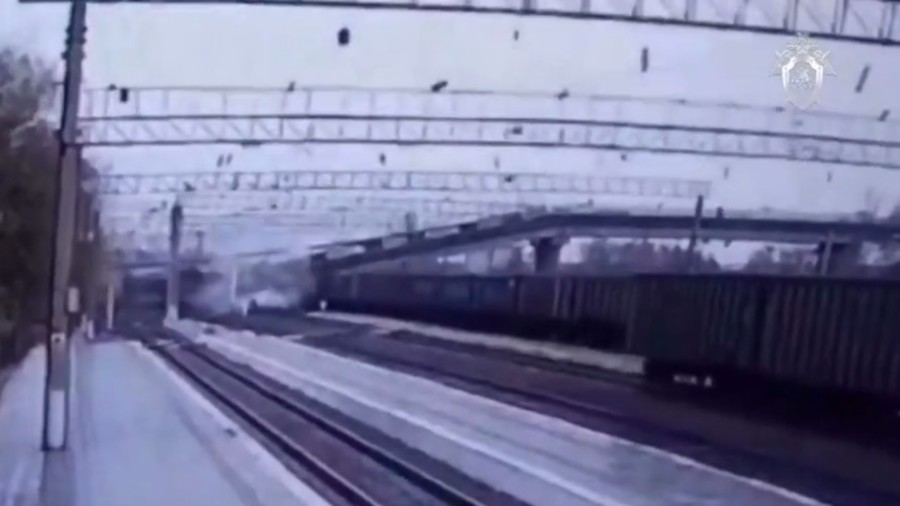 A motorway bridge has collapsed on top of the Trans-Siberian Railway in the Russian Far East, just as a truck was driving on the bridge and a train had passed underneath it. CCTV footage of the collapse has appeared online.
Two sections of the motorway bridge in the Amur region of Russia collapsed as a truck was passing it, according to the local emergencies ministry. The driver was hospitalized with a broken shin and shattered foot. His life is not in danger.
The collapse forced train traffic through the affected area to be suspended.
The bridge fell on one of the tracks that forms part of the Trans-Siberian Railway. It's the longest railway in the world and is over a century old, connecting Moscow with Vladivostok. Additional branches extend into Mongolia (the Trans-Mongolian, passing through Ulaan-Baatar en route to Beijing), China (the Trans-Manchurian, veering southeast through the northeastern provinces of China and rejoining the main line to Vladivostok), and North Korea (the Baikal Amur Mainline, passing Lake Baikal at its northernmost point and terminating in Rajin, North Korea).