EU's Juncker does 'Maybot' on stage in apparent mockery of Theresa May's moves (VIDEO)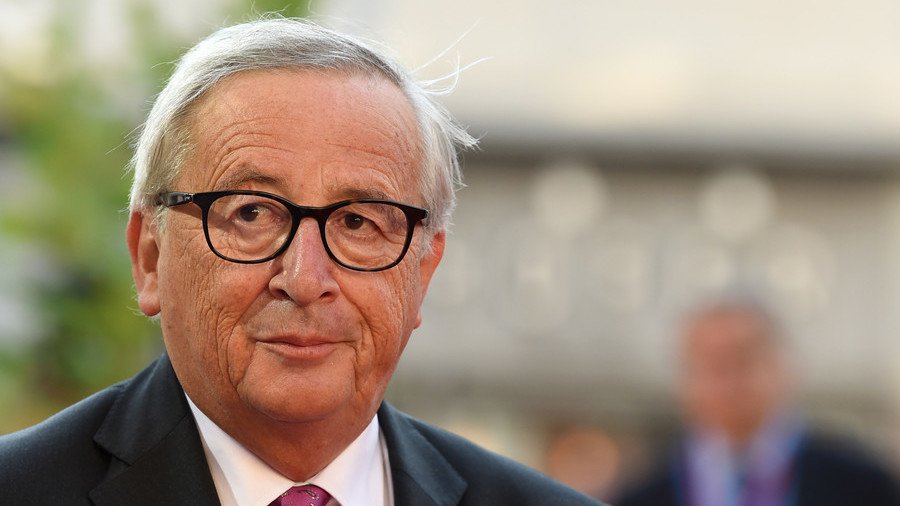 The difficult Brexit talks have escalated into a dance-off as European Commission head, Jean-Claude Juncker, seems to have mocked the boogie moves of British PM, Theresa May, ahead of his speech in Brussels.
Juncker was on stage and ready to speak when the music suddenly started playing. He immediately reacted by doing some clumsy robot-like movements which clearly reminded many of Theresa May's viral dance to ABBA's 'Dancing Queen' which she performed on stage as she arrived at a Tory conference last week.
The public met the short performance with a laugh. "Gentlemen please settle an argument in Brussels. Who is the greatest dancer – Britain's own Theresa May or the bopper from Brussels Jean-Claude Juncker ?" a Brussels correspondent for The Telegraph at the scene tweeted.
Some have already said on Twitter that the British PM has ruined the classic song by ABBA for them forever. May has been repeatedly mocked for her robotic and awkward dance style, dubbed the "Maybot."
So, the comments by European Commission spokesman Margaritis Schinas, that Juncker's dance was "not directed at anyone" don't seem too convincing. Schinas said on Twitter that it was simply an "improvisation" on the part of his boss and wondered: "Without a song or a dance what would our life be?"
"Great respect for Theresa May repeatedly stated in public and demonstrated in practice," he said.
Juncker began his Monday's speech by announcing that he will not speak in English as "English is not the only official language of the EU."
READ MORE: A look back at Theresa May's awkward dancing career that's bringing the 'robot' back (VIDEOS)
In February, the European Commission president famously told a journalist: "I am not the British Prime minister. It would be good for Britain if I was, but I'm not."
The commission, headed by Juncker, is coordinating EU's work on Britain's parting with the EU, while he has been a strong opponent of Brexit and repeatedly warned that the UK will regret its decision.
Think your friends would be interested? Share this story!
You can share this story on social media: