Girl escapes death by a whisker after falling off speeding Indian train as another passes by (VIDEO)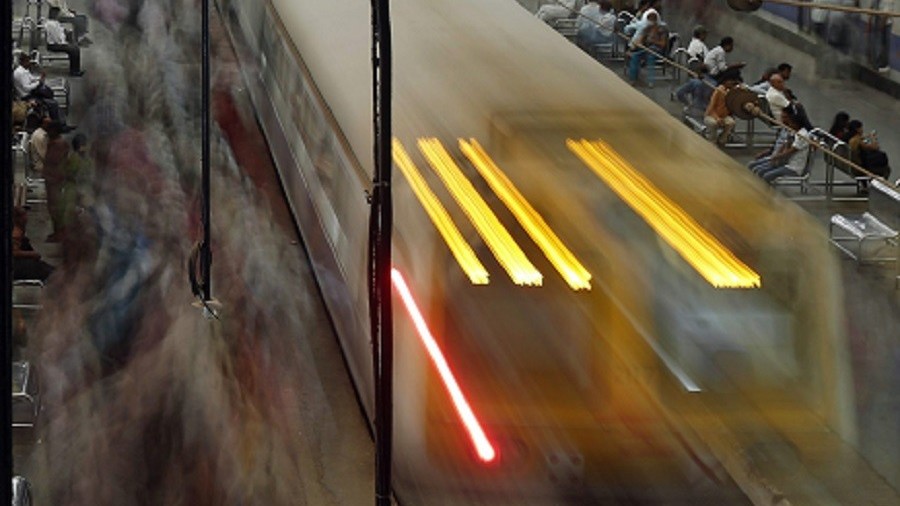 A dramatic video of a young woman who miraculously escapes death after falling off a speeding train in India, just as another passes in the opposite direction, has gone viral.
The girl – whose identity remains unknown – slipped off the moving train and only just managed to escape unharmed in the undated footage, shot in India's financial capital of Mumbai.
Wearing a striped black and white t-shirt and jeans, the girl is seen listening to music and standing on the train's footboard, where she adjusts her clothes a couple of times.
In a dramatic turn of events, she then slips off the train and is seen hanging from the handrail. She incredibly escapes the brunt of a high-speed train passing on the opposite track.
She was saved by quick-thinking passengers nearby, who pulled her up and back onto the train.
The girl, seemingly unhurt, is then seen crouching down on the platform, exhibiting a mix of shock and relief.
READ MORE: India to present Russia with vintage MiG-21s as gesture of appreciation – report
According to the Times of India (TOI), while it is unclear where the video was recorded or who shot it, officials believe the vehicle to have been a local Central Railway (CR) train, as the logo on the passing train belonged to CR.
The Railway Protection Force (RPF) is now said to be investigating the incident.
If you like this story, share it with a friend!