US envoy's threat to Russia is 'way of increasing interest in NATO & boosting defense spending'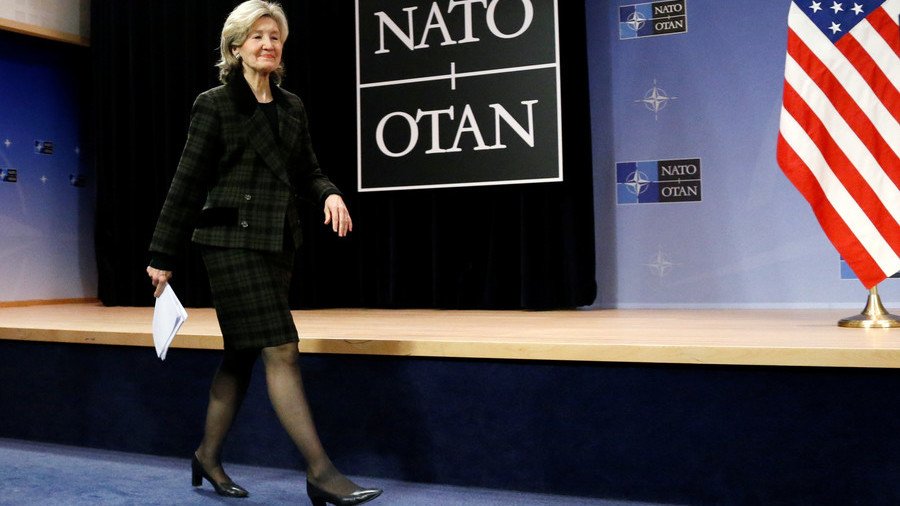 The US NATO envoy's accusation that Russia is developing missiles in violation of the INF treaty is almost a theological argument to convince NATO to boost its defense spending, says international affairs expert Jonathan Steele.
America's ambassador to NATO Kay Bailey Hutchison is on something of a damage-control mission after pledging to "take out" Russian missiles – the development of which, the US believes, violates a Cold War-era treaty.
She was referring to the Intermediate-Range Nuclear Forces Treaty (INF), which was signed in 1987 by Ronald Reagan and Mikhail Gorbachev. Her comments came on the eve on of a meeting between US Defense Secretary Jim Mattis and his NATO counterparts in Brussels.
Russia's Foreign Ministry fired back, saying public officials should be very careful when it comes to aggressive rhetoric.
Bailey Hutchison later backed down on her earlier statement, saying on Twitter that she was not actually talking about "preemptively striking Russia."
I was not talking about preemptively striking Russia. My point: 🇷🇺 needs to return to INF Treaty compliance or we will need to match its capabilities to protect US & NATO interests. The current situation, with 🇷🇺 in blatant violation, is untenable. https://t.co/dRaFoK8xlo

— Ambassador Hutchison (@USAmbNATO) October 2, 2018
RT: Ambassador Bailey Hutchison's threat was the first of its kind since the end of the Cold War. What does this say about US-Russia relations at the moment?
Jonathan Steele: I think it says something about the need to keep NATO active and spending more and more money on defense. She made her comments in advance of a NATO meeting in Brussels, the US Secretary of Defense Jim Mattis will be there. And I think she is trying to raise interest and a little bit of alarm at the same time.
RT: Do you think just the Pentagon has been pushing it or did this statement come with the White House's approval?
JS: I think it probably has the White House stamp of approval, too. These are very arcane issues to do with a range of different missiles which are still being developed and are not flown yet. It is almost a theological argument because we are talking about things that are so abstract and unknowable and invisible to ordinary people and to most of the intelligence agencies and the NATO itself except for the American ones. You just have to take them on trust or at least just to have to listen to them and listen to the denials which have come from the Russian side who say "It is not true what is being alleged."
RT: Russia's Foreign Ministry said US officials should be more careful with their choice of words, realistically speaking, is there any chance of escalation here?
JS: That is why the Russians have continued to deny that they are developing this missile. It is very hard to know exactly what the range of different missiles is until there are lots of test flights and you can measure… whether they do in fact have the range that is alleged. The Russians are so far denying it, which is really a way of keeping cool. If the Russians were trying to threaten in some return way, then we would be really worried. But at the moment it is a one-sided accusation and the denial on the other side.
RT: In the past, Russia's accused the US of seeking to dismantle the INF treaty on the pretext of Russia's alleged violations. Is this Washington's way of getting out of the deal?
JS: It is a little bit. And of course we do have – since the treaty was signed in 1987 – the banned medium-range land-based cruise missiles. We've had these anti-ballistic missile systems being installed by the Americans in Europe, which undermine Russian ability to counterattack against the potential first strike by the Americans. We've got to bring in the anti-missile treaties as well as anti-ballistic missile treaties, defense treaties against the alleged attack, treaties like the INF. Again, it becomes totally theological.
Think your friends would be interested? Share this story!
You can share this story on social media: