'Unwavering support' against 'Iranian aggression'? Israel welcomes record $38bn US military aid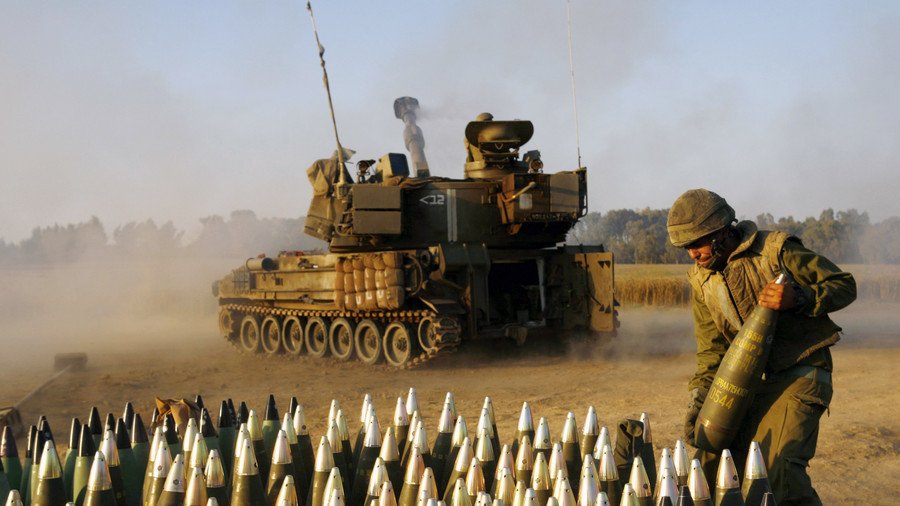 Benjamin Netanyahu has welcomed a historic $38bn US military aid package, negotiated by the previous US administration and released just in time to help the Jewish state withstand the 'complex' threat posed by its arch-enemy Iran.
Two years after President Barack Obama and the Israeli Prime Minister signed a Memorandum of Understanding, the 10-year military funding deal went into effect on Monday, with the start of the new fiscal year. Netanyahu welcomed the deal as the means to tackle the threat from the Islamic Republic, after the State Department noted that the package is aimed to protect Israel against "all potential regional adversaries", but foremost from the "Iranian regime's sponsorship of terrorist groups".
אני מודה לממשל האמריקני ולקונגרס על מחויבותם לישראל ועל כספי הסיוע האמריקנים גם בעשור הקרוב. בפני ישראל והעולם אתגרים ביטחוניים מורכבים, ובראשם התוקפנות האיראנית. התמיכה הבלתי מסויגת של ארה"ב בזכותה של ישראל להגן על עצמה היא מעמודי התווך בקשר האיתן בין המדינות

— Benjamin Netanyahu (@netanyahu) October 2, 2018
"Israel and the world face complex security challenges, first and foremost the Iranian aggression," Netanyahu tweeted in Hebrew on Tuesday. "The unwavering support of the United States for Israel's right to defend itself is one of the pillars of the strong relationship between the two countries."
READ MORE: Watch S-300 launchers, interceptors & radars unloaded in Syria after Il-20 downing (VIDEO)
Under the terms of the deal, outlined in the US-Israel Security Assistance Authorization Act of 2018, Israel will receive an annual funding of $3.3 billion in Foreign Military Financing and $500 million for cooperative programs for missile defense. Specifically, the US has authorized the transfer of precision-guided munitions from reserve stocks, which are "necessary for Israel to counter the threat of rockets in a timely fashion." The act also expands a stockpile of weapons the US stores in Israel, which the country may access in wartime.
Netanyahu and President Donald Trump, unlike the previous Obama administration, have been persistently warning against an allegedly imminent threat from Iran. Israel especially welcomed Trump's decision to withdraw from the 2015 Iran nuclear deal, in a unilateral move that other signatories, mainly Russia and China, said could jeopardize regional and global security.
Last week, both Netanyahu and Trump were once again united in their condemnation of Tehran during their performances at the United Nations General Assembly. While Trump accused Tehran of "enabling Syria's butchery" and vowed that he will never allow the nation to acquire nuclear weapons, Netanyahu brandished slides revealing yet "another secret atomic facility" in Iran.
In the meantime, Israel continues to maintain the right to strike 'Iranian targets' whenever and wherever it deems necessary, totally disregarding the sovereignty of neighboring states. Tel Aviv justifies its actions by the need to prevent Tehran from establishing a foothold on its borders and to stop alleged weapons transfers to Lebanese Hezbollah.
Think your friends would be interested? Share this story!
You can share this story on social media: