Powerful aftershocks strike Indonesia days after deadly quake & tsunami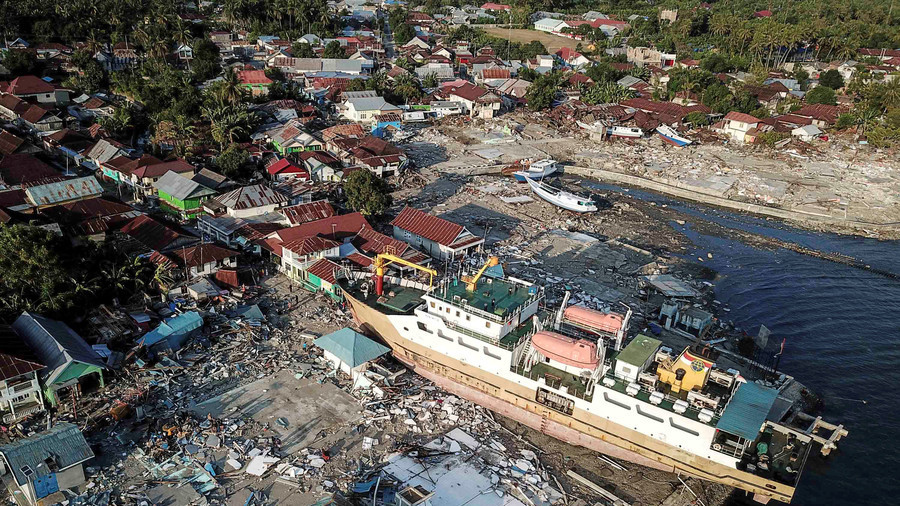 A series of powerful aftershocks, ranging between 5 and 6 in magnitude, have rattled Indonesia just days after a deadly earthquake and tsunami wreaked havoc across the island of Sulawesi, killing hundreds.
The most powerful 6.0 aftershock, according to the USGS, was recorded off Sumba Island, some 30km southwest of Nggongi at a depth of 10km, after at least four other jolts, measuring between 5.0 and 5.9, shook the region. There were no immediate tsunami alerts or reports of casualties or damage.
The country's National Agency for Disaster Countermeasure meanwhile measured the most powerful jolt at 6.3 magnitude, emphasizing that no tsunami was expected following the aftershocks.
A devastating 7.4 earthquake hit the region of Sulawesi on Friday, triggering a huge destructive tsunami. So far, 1,234 have been confirmed dead with the death toll expected to climb.
The government is still struggling with the scale of destruction, with locals becoming desperate to receive food and other emergency supplies.
The city of Palu, which suffered the most in the wake of the tsunami, still has no electricity. Drinking water and fuel supplies are also running low. With roads destroyed, authorities are finding it hard to get heavy duty equipment in place to search for possible survivors.
Rescue workers continue to work overtime after a 14-day state of emergency was declared by the Central Sulawesi administration following Friday's tragedy.
Think your friends would be interested? Share this story!
You can share this story on social media: