Anti-US base candidate wins Okinawa governor elections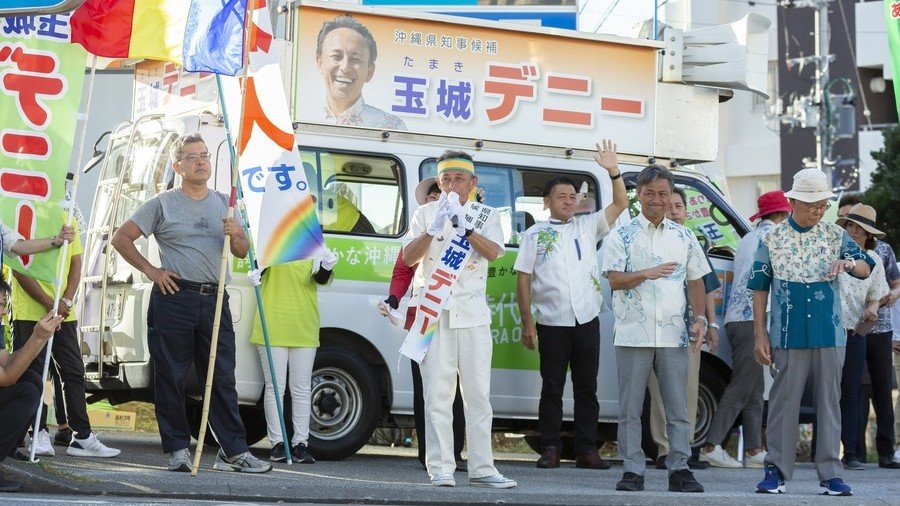 A staunch opponent of the planned relocation of a US military base within Okinawa Island, where the issue sparked major public protests, has beaten a government-backed competitor in the local governor elections.
Denny Tamaki, a former opposition lawmaker and a son of the US marine, has got a win against Atsushi Sakima, the former mayor of a local city of Ginowan, who was backed by Prime Minister Shinzo Abe's ruling Liberal Democratic Party. The vote was largely determined by the issue of the relocation of the US Marine Corps Air Station Futenma, which has been a source of controversy for the locals over the years.
Tamaki vowed to continue fighting against relocation of the US base from the crowded town of Ginowan to the less populated coastal region of Nago, which would put corals and dugongs, the endangered marine mammals, at risk, according to environmental activists. He also pledged to follow the steps of the former Okinawa governor Takeshi Onaga, who had been an outspoken opponent of the relocation until his death in August that prompted early gubernatorial elections.
His major rival in the four-person race, Sakima, also supported the closure of the existing Futenma base but did not clarify his stance on the issue of relocation. Tamaki, meanwhile, vowed to continue fighting for the base to be relocated off the island.
Tamaki's victory is considered to be a blow to Abe's plans as the prime minister is pushing for the controversial base relocation plan despite vehement opposition from the locals, the Japanese media report. Okinawa, which amounts to less than one percent of the Japanese total land area, hosts about a half of the 50,000 American troops in Japan.
The US presence on the island has long been a source of discontent for the locals. Okinawans have raised concerns about machinery mishaps, noise, sexual assaults against Japanese women, and even some deadly incidents – all of which triggered massive protests. Onaga also repeatedly clashed with the government over the relocation issue in particular.
In 2015, he revoked an approval for the construction works issued by his predecessor. His decision was overruled by the central government, which went ahead with the project. In August, the local government retracted the permission again. Since then, the work has been suspended.
Following Onaga's death in August, 70,000 people protested the Japanese government's plan to relocate the US air base. Participants also held a one-minute silence to pay respect to the late governor.
If you like this story, share it with a friend!
You can share this story on social media: