'Tyrants of Tehran': Netanyahu slams Iran & anti-Semitism at UN in speech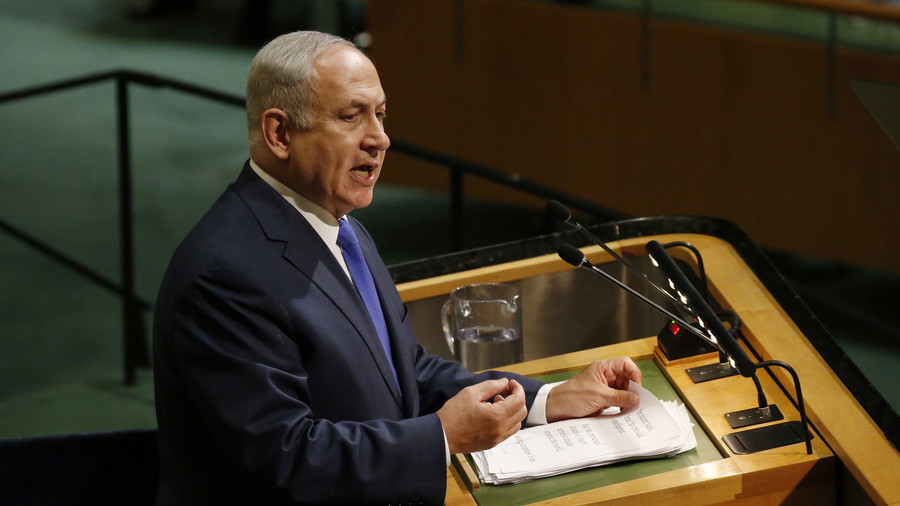 Israeli Prime Minister Benjamin Netanyahu has addressed the UN General Assembly, spending most of his time talking about the "tyrants of Tehran." He also slammed the way Israel is treated by some UN member states.
27 September 2018

18:12 GMT

17:56 GMT

"If a Jew buys an apartment, a piece of land, anywhere in the Palestinian territories, the Palestinian that sold him that land is executed. That's what the law says," Netanyahu said, while stating that Palestinian President Mahmoud Abbas wrote a paper in which he denied the Holocaust.

17:54 GMT

Israel "deeply values" those friendships and Netanyahu said he looks forward to the day when peace can be achieved with Israel's Arab neighbors, including the Palestinians.

Netanyahu has applauded Trump and US Ambassador to the UN Nikki Haley for the support they have shown Israel at the United Nations.

They have stood up against the "slandering" of Israel, which Netanyahu said has long taken place at the UN.

"It's the same old anti-Semitism with a brand new face," Netanyahu said of the treatment that Israel receives at the UN.

"When Israel is called racist for making Hebrew its official language...when Israel is labeled an apartheid state for declaring itself the nation-state of the Jewish people, this is downright preposterous," Netanyahu said.

17:54 GMT

Israel is "deeply grateful" to US President Donald Trump for his "bold decision" to withdraw from the nuclear deal. Everyone who cares about the peace and security of the world should also be grateful, he said.

Netanyahu said that by empowering Iran through the nuclear deal, Israel and many Arab states have been brought closer together than ever before in an "intimacy and friendship" which has not ever been seen in his lifetime.

17:48 GMT

Netanyahu also had a message for Hezbollah: "Israel also knows what you're doing, and Israel knows where you're doing it, and Israel will not let you get away with it."

"A year ago, Iran's economy was booming. Now it's collapsing," Netanyahu said, crediting US sanctions.

Netanyahu said he began to be contacted by Iranians who were speaking out against the government and embracing Israel. Soon after that started, protests began, he said. "The people of Iran are bravely standing up" against Tehran.



17:42 GMT

Europe and others are appeasing Iran by trying to help it bypass new sanctions, Netanyahu said.

"The same week Iran was caught red-handed trying to murder European citizens, European leaders were rolling out the red carpet for President Rouhani, promising to give Iran even more money."

"I just used a strong word: appeasement," @Netanyahu says of EU efforts to circumvent US sanctions on #Iran. "Unfortunately, that's exactly what we're seeing again in Europe."

"Have these European leaders learned nothing from history?" he asks. "Will they ever wake up?"

— Michael Wilner (@mawilner) September 27, 2018

17:40 GMT

"Israel will do whatever it must do to defend itself against Iran's aggression."

"We will continue to act against you in Syria, we will act against you in Lebanon, we will act against you in Iraq."

Many supporters of the nuclear deal believe that Iran's regime will become more moderate and peaceful, and that Iran will "use the billions of dollars it received in sanctions relief to improve the lives of its people." That hasn't happened, he said, stating that Iran has used the money to fuel its "vast war machine."

17:34 GMT

Netanyahu asked delegates to consider a question: "Why did Iran keep a secret atomic archive and a secret atomic warehouse?" The answer, he said, is simple. It is "because it hasn't abandoned its goal to develop nuclear weapons. "

Netanyahu had a message for the head of the International Atomic Energy Agency (IAEA): "Do the right thing. Go inspect this atomic warehouse immediately, before the Iranians finish clearing it out."

"Once and for all, tell the world the truth about Iran," he said to the IAEA president.