Putin has information that Skripal poisoning suspects Petrov and Boshirov are civilians - Kremlin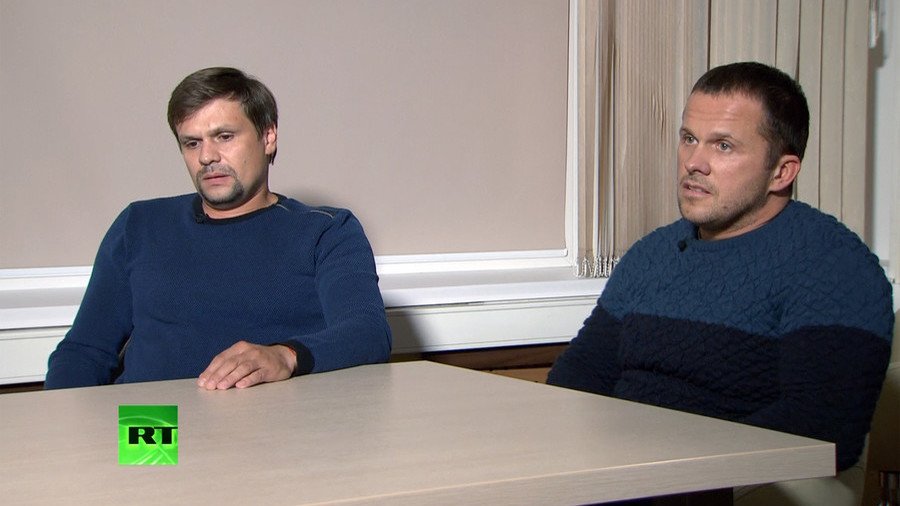 Russian President Vladimir Putin has information that two Russia suspects in the Skripal poisoning case were civilians, a Kremlin spokesman said when asked about an investigation that claimed they were Russian intelligence agents.
Putin earlier vouched for Ruslan Boshirov and Aleksandr Petrov, saying they were civilians and had nothing to do with the crime. A report by Bellingcat, a UK-based investigative group, said this week that Boshirov is actually a decorated Russian commando colonel named Anatoly Chepiga.
"That's the information he has," Kremlin spokesman Dmitry Peskov told journalists. "The president said these people were civilians. This means he voiced information that had been reported to him."
Britain claims that Boshirov and Petrov are officers working for the Russian military intelligence GRU and that they travelled to the UK in March to assassinate former double agent Sergei Skripal with a military grade nerve agent. The claim is based on British intelligence, which was never made public.
The two men gave an interview to RT, in which they claimed that they were not working for the GRU and that they travelled to Salisbury as tourists.
Bellingcat's identification of Boshirov as Chepiga was based on an old photo of Chepiga, which they said they obtained from a Russian database and which they said had strong resemblance to that of Boshirov. The group pinpointed Chepiga as a likely candidate by making a profile of a potential GRU agents and trawling through data in search for a match to Boshirov.
"Many people resemble each other. Who this person mentioned in the report is I cannot say because I have no such information," Peskov said about Chepiga. He added that records about Chepiga's decoration with the Hero of Russia merit stated by Bellingcat can be checked though.
Think your friends would be interested? Share this story!
You can share this story on social media: