Black rapper's 'hang white people' video triggers meltdown in France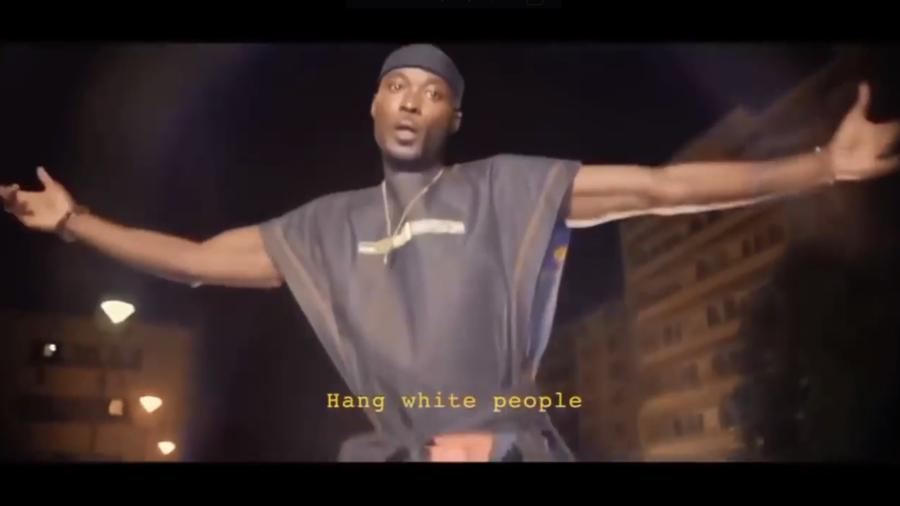 A young French rapper has made it into the headlines with a graphic music video calling for white people to be killed. And while he's shot to fame, with it has come widespread outrage and an investigation into his "art".
The video features violent scenes of the rapper, Nick Conrad, and another black man torturing and killing a white male. The duo give the man a chance to escape, telling him to run fast – "as the blacks do" – then shoot him in the back for being too slow. Conrad then forces the white man to bite a kerbstone and stomps on his head, in an apparent reference to the movie American History X. The victim is then seen hanged from a post behind the rapper and his sidekicks.
The graphic footage is accompanied by equally shocking lyrics, with Conrad rapping "I go to nurseries and kill white babies" while hanging their parents "to entertain black kids of all ages."
The video, uploaded to Youtube on September 17, gained several thousand views before being removed on Wednesday. Clips from the video, however, are still available on some Youtube accounts and other sites.
The video has garnered much attention from French politicians and activist groups, who called on the authorities to remove it from the web and prosecute the author.
"He must be prosecuted for incitement to racial hatred and condemned for these ignoble and irresponsible remarks," Christian Estrosi, the mayor of Nice, tweeted.
The France-based International League against Racism and Anti-Semitism (LICRA) also condemned the video, stating that freedom of expression was not the "freedom to call for hanging whites because of their skin color."
"The incitement to murder in Nick Conrad's video is despicable and unbelievably violent," LICRA tweeted.
The President of France's National Rally (formerly Front National) Marine Le Pen said the video was an example of "anti-white racism that no self-proclaimed expert or media speaks of."
"There is nothing artistic about what is, pure and simple, a call for hatred and murder!" she tweeted.
The widespread outrage caught the eye of Parisian prosecutors, who opened an investigation into the video over suspected "public calls to commit crimes" on Wednesday.
French Interior Minister Gerard Collomb also took to Twitter to condemn the video, saying his service was working hard to eradicate it from the web. Now, it's up to the judiciary to give "appropriate treatment to these heinous calls for hatred," he added.
#NickConrad : je condamne sans réserve ces propos abjects et ces attaques ignominieuses.Mes services œuvrent au retrait sans délai des contenus diffusés.Il appartiendra à l'autorité judiciaire de donner les suites appropriées à ces odieux appels à la haine.

— Gérard Collomb (@gerardcollomb) September 26, 2018
Conrad, however, defended his "art," saying it was actually "a message of deep love."
The video was designed to get people thinking by "reversing the roles," he said, claiming the video was deeper than it looked.
"I was not looking for the buzz, this video is supposed to make you think and not stay on the surface," the rapper told RTL. "I do not understand people who do not go in-depth."
READ MORE: 'Simply reality': Public hits back at banning of 'This is Nigeria' music video
While the "message of love" was apparently lost on most critics, the rapper received support from controversial French comedian and political activist Dieudonné. The comedian himself has repeatedly been convicted for racist and anti-Semitic comments.
Dieudonné was quick to take to social media and praise Conrad as a young man "full of talent," who was determined to "fight against the lies of history."
"May God preserve us from the trap of racial hatred that is only there to serve the interests of Zionism," he wrote.
Like this story? Share it with a friend!
You can share this story on social media: