Iran vows 'crushing & devastating response' to US & Israel after military parade attack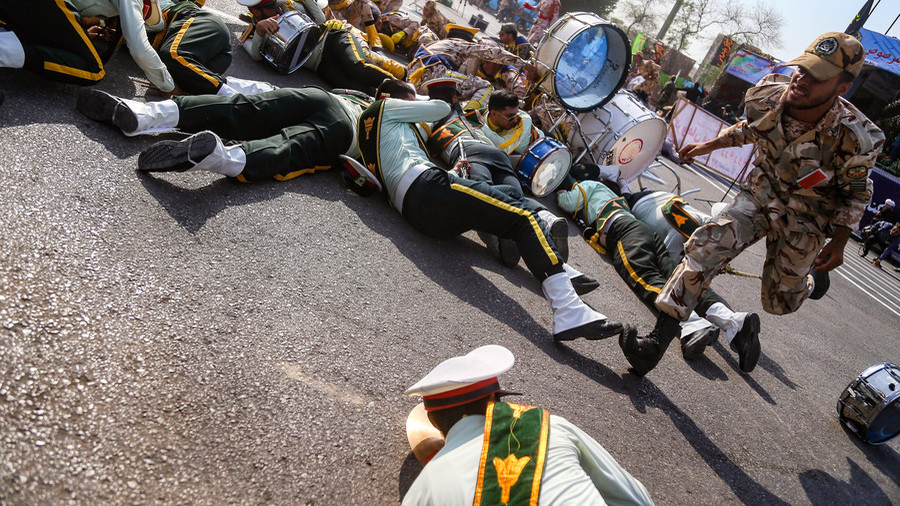 A top Revolutionary Guards commander pledged the United States and Israel will see a "crushing and devastating response" to a military parade attack Tehran says they orchestrated last week.
The US and Israel are complicit in the deadly shooting at the military parade in the city of Ahvaz that claimed dozens of lives, Hossein Salami, deputy head of Iran's Revolutionary Guards (IRGC), said live on state television. The harsh statement came as bodies of those killed in the attack were laid to rest in Iran's southwestern city.
"You have seen our revenge before," Salami said, as quoted by Reuters. "You will see that our response will be crushing and devastating and you will regret what you have done."
Earlier in the day, Iran's intelligence minister Mahmoud Alavi told the media the security services uncovered a large network of suspects. Many had already been arrested in connection with the attack, according to Mizan news agency.
The IRGC has already vowed revenge for the shooting carnage that erupted last Saturday, on the day Iran was holding parades commemorating the end of the eight-year Iran-Iraq war. In a statement on Sunday, the paramilitary organization said it knows where the attack came from, and threatened the masterminds "will face a deadly and unforgettable vengeance in the near future."
Up to 29 people were killed and more than 60 others were injured after gunmen fired indiscriminately at the crowd during the military parade in Ahvaz on Saturday.
Afterwards, the separatist 'Patriotic Arab Democratic Movement in Ahwaz' claimed credit for the assault. Islamic State also bragged that it staged the carnage, but Tehran denied the claim outright. Following the assault, Iran openly blamed the US and its Gulf allies for backing the attackers. It also said that the attackers had ties to Israeli intelligence Mossad.
If you like this story, share it with a friend!
You can share this story on social media: