Israeli border guards arrested for 'stripping & sexually harassing' Palestinian women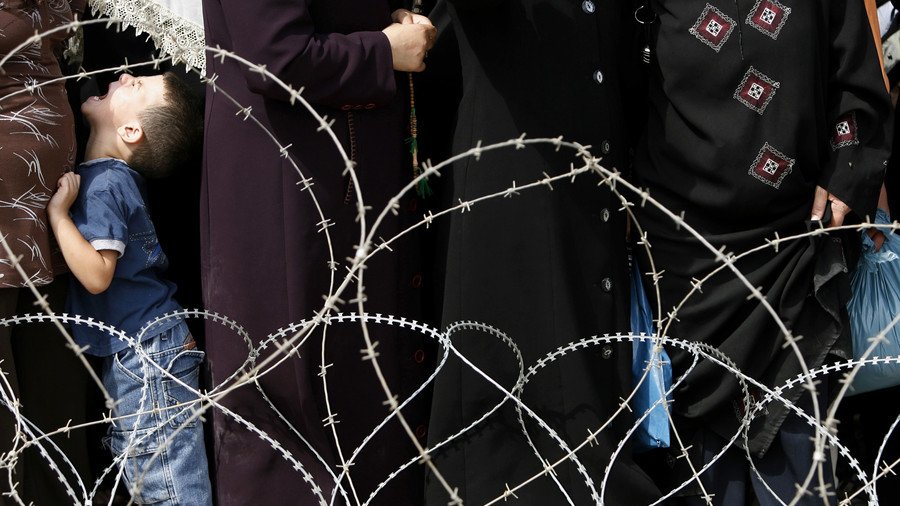 A military court has extended the detention of two Israeli soldiers accused of forcibly stripping and sexually harassing Palestinian women, and of stealing money, at a checkpoint in the West Bank.
One combat soldier and one security observer from the Military Police's Border Crossings Unit are accused of violating orders and sexually harassing women during their searches at the Qalandiya checkpoint next to Ramallah.
According to the allegations, the pair touched Palestinian women's private parts during their frisking and sometimes forced them to strip. The two IDF servicemen also allegedly stole cash from Palestinians at the checkpoint.
After being apprehended last week and following the initial investigation by the military police unit, Jaffa Military Court extended their detentions until next Friday. Their misconduct, the court believes, amongst other offenses, could constitute racism.
"The allegations recount theft by a public servant, looting and abuse of power based on racist motives in addition to sexual offenses," Judge Ihsan Halabi noted, extending the duo's custody, Ynet reports.
While one of the soldiers denies the charges against him, Military Advocate General Captain Ariella Segal noted that "serious suspicions" in the case remain, requiring "additional" investigations. "The soldiers carried out acts without authority and contrary to correct procedure in strip-searching a number of women," she stressed.
One of the main crossings into the West Bank, the Qalandiya checkpoint is often viewed as the hotspot of tension between the IDF and Palestinians. Those using the checkpoint often complain about being harshly interrogated while passing through the crossing.
READ MORE: Israeli sniper shoots motionless Palestinian at Gaza border to sound of cheers (VIDEO)
Tensions between the neighbors have reached an all-time high, following Donald Trump's decision to recognize Jerusalem as Israel's capital back in December. Clashes near Qalandiya checkpoint have been making headlines for months, ever since the Palestinians organized their Great March of Return protests, calling for an end to the 12-year-long Israeli blockade of Gaza. Over 180 Palestinians have been killed and thousands of others injured since the outbreak of the Gaza border protests on March 30, which demand the right of return for refugees.
If you like this story, share it with a friend!
You can share this story on social media: