Radical anti-Putin stars, once beloved by the West, now face prison in Europe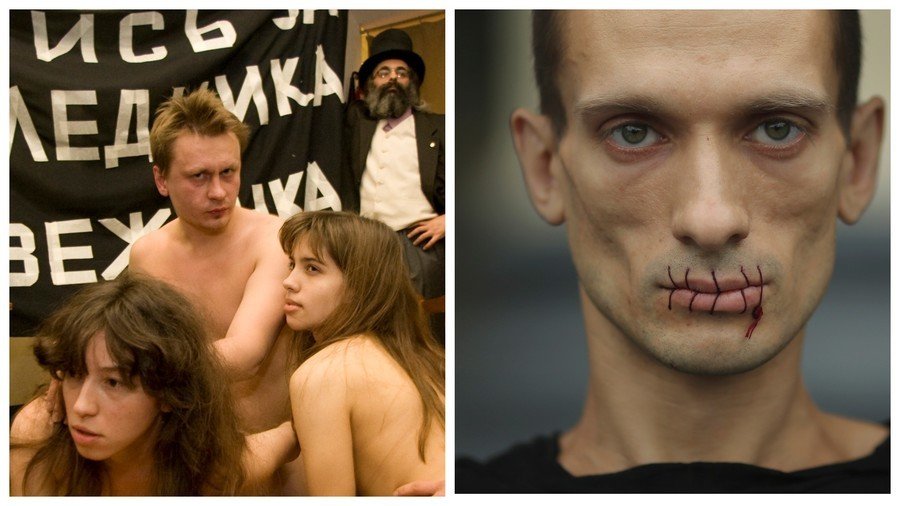 Russian opposition stars were once hailed by the Western media and beloved by Europe – but not so much now that they live there! The countries they fled to are now investigating them for criminal activities.
Oleg Vorotnikov – founder of the controversial Voina (War) art band, and wanted in Russia for assaulting police officers in 2011 at an unsanctioned rally – has now been charged with illegal weapons possession and trafficking in Austria, the group itself reported. There has so far been no independent confirmation that the artist is facing arrest.
Vorotnikov, also nicknamed 'Vor' (the Russian word for 'thief'), rose to prominence along with his wife, fellow 'actionist' Natalia Sokol.
READ MORE: Man behind Pussy Riot seriously ill & may have been poisoned, say family
The couple engaged in a series of bizarre stunts, including drawing a giant penis outside the security service building in St. Petersburg, and gatecrashing a biology museum to perform group sex in public.
Pussy Riot, which gained notoriety in 2012 after bursting into Moscow's main cathedral during mass and performing a profanity-laden punk song, are a splinter group from Vorotnikov's movement.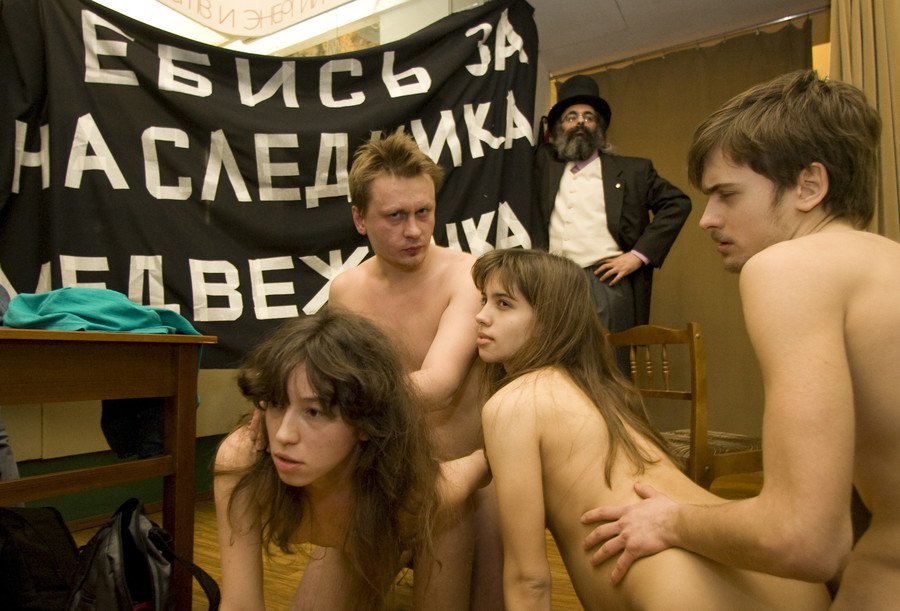 The notorious actionist has been detained multiple times in Russia, where he is wanted on hooliganism charges. In 2011, Vorotnikov and his family left Russia illegally, breaking a travel ban imposed on him.
In 2016, Vorotnikov was detained in the Czech Republic on the basis of an Interpol warrant issued by Russia, but was not extradited. Afterwards, he moved to Switzerland, where he unsuccessfully tried to request asylum.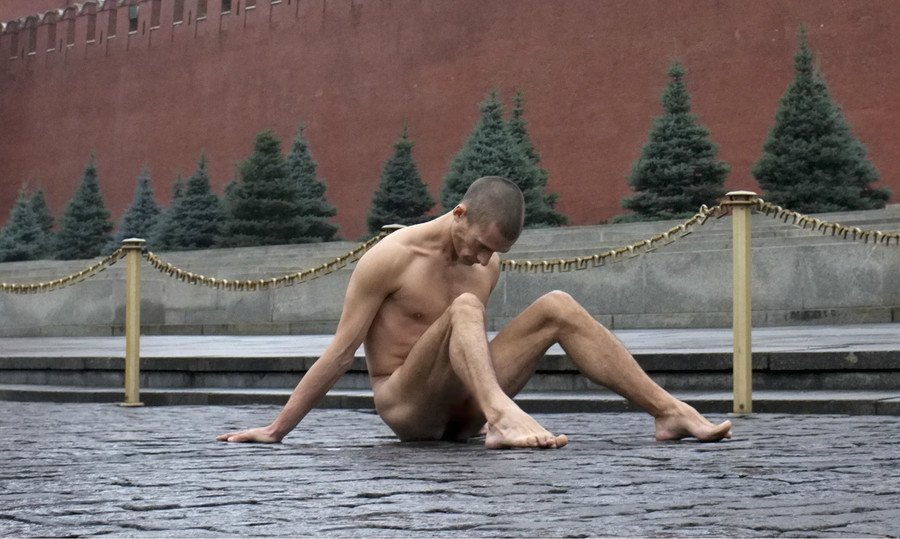 But the man's misadventures in Europe did not stop there – he and his family then fled to Berlin, where they were taken to a refugee facility. But Vorotnikov chose freedom again and escaped from the compound using a garbage truck.
Pyotr Pavlensky: Artist-turned-arsonist
Vorotnikov is not the only anti-Kremlin artist to go through a rise and fall in Europe.
Pyotr Pavlensky is another big name that garnered international attention after several bizarre acts, including nailing his scrotum to the pavement of Red Square, sewing his mouth shut, and setting fire to the entrance of the Russian security service FSB.
When he was charged with vandalism, and fined and sentenced, the Western media portrayed him as a persecuted artist, suffering for standing up to the Kremlin. In February 2017, the performer, his partner and children fled Russia (without paying the fine) and asked for political asylum in France, which was granted.
In an interview with Russian opposition broadcaster TV Rain, Pavlensky said that his family lives "like the true French: we do not work and we do not pay." He said that he "seized" the house in Paris he lives in and resorts to "taking food" from the shops. "The security here is not very attentive," the artist said.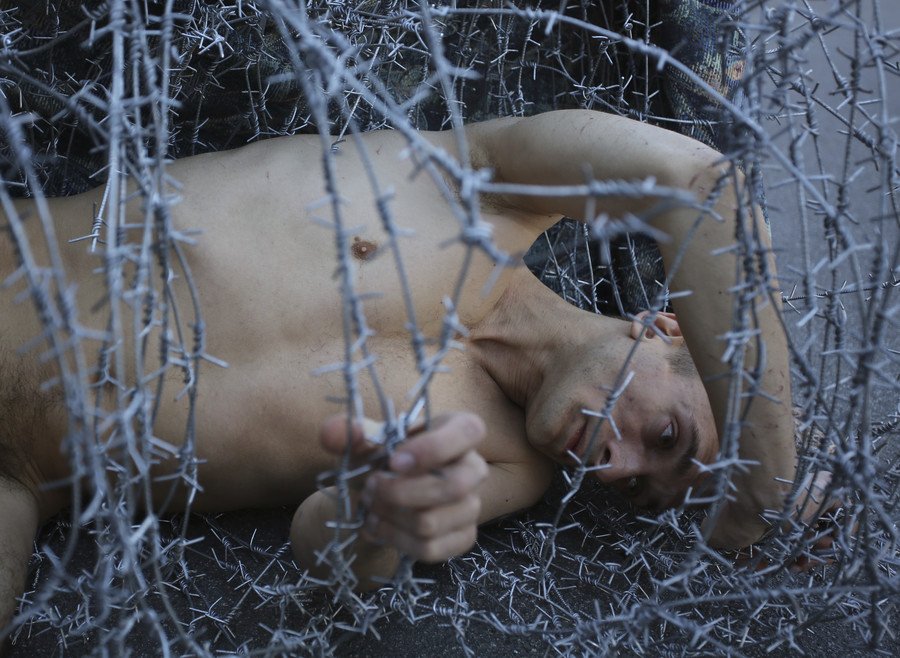 Apparently, French life became too idyllic for Pavlensky, as he repeated his arson stunt at the door of the Bank of France last October. Standing in front of the blaze that engulfed the door, he reportedly said he hoped to ignite "the fire of revolutions" against the banks which "became monarchs."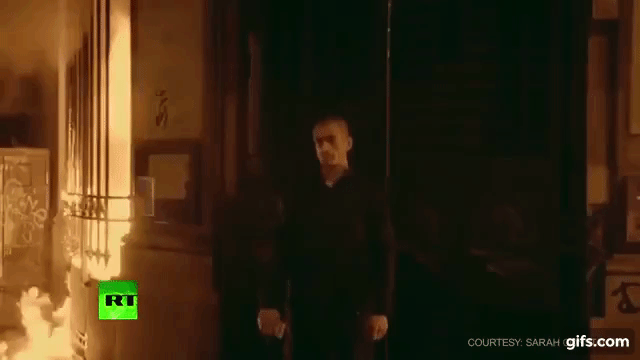 However, his artistic performance impressed the authorities in France as much as it did in Russia, and Pavlensky was placed in pretrial custody where he's been kept since. The continued detention was explained as being due to his psychological problems. Later, Pavlensky complained that the French prison was worse than the Russian one.
"I've been placed into a disciplinary cell for refusing to withstand humiliations. On August 1, there was a series of provocations from the wardens," Oksana Shalygina, Pavlensky's partner, reported his words on Facebook earlier this year. "In the end, they got what they wanted and put me in the disciplinary cell."
Both Vorotnikov and Pavlensky gained their share of international fame when they were fighting the Kremlin. Now, as the two men are at odds with the justice system in Europe, will they be hailed in the mainstream media the way they were while living in Russia?
Subscribe to RT newsletter to get stories the mainstream media won't tell you.
You can share this story on social media: