US President Donald Trump says he's set to meet North Korean leader Kim Jong-un soon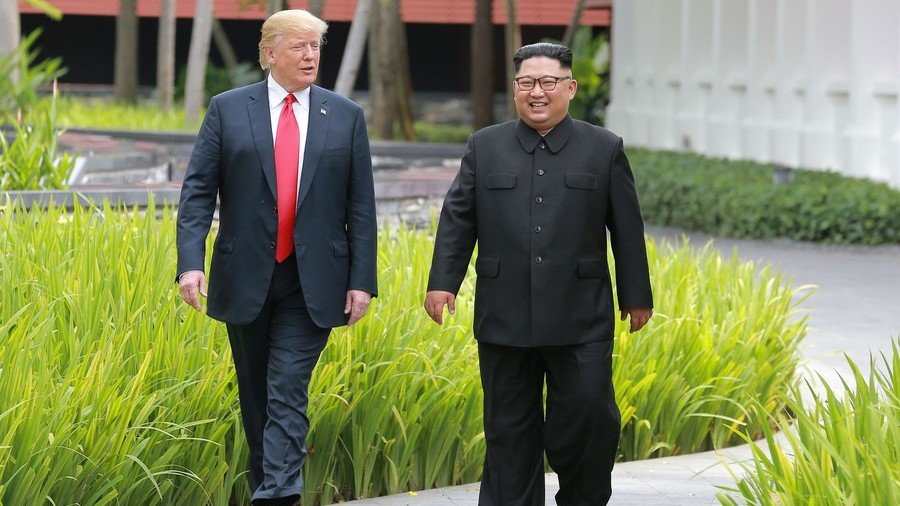 President Donald Trump has said that he will meet North Korean leader Kim Jong-un soon. The announcement comes hours after Trump praised Kim's move to dismantle a nuclear test site and allow inspections.
Speaking to reporters on Wednesday, Trump was asked whether he will be meeting with Kim soon, to which the President replied "we will be."
North Korea said earlier on Wednesday that it would demolish key missile facilities in the presence of international observers. President Trump welcomed the announcement, along with the news that North and South Korea would file a joint bid to host the 2032 Olympic games.
Kim Jong Un has agreed to allow Nuclear inspections, subject to final negotiations, and to permanently dismantle a test site and launch pad in the presence of international experts. In the meantime there will be no Rocket or Nuclear testing. Hero remains to continue being........

— Donald J. Trump (@realDonaldTrump) September 19, 2018
....returned home to the United States. Also, North and South Korea will file a joint bid to host the 2032 Olympics. Very exciting!

— Donald J. Trump (@realDonaldTrump) September 19, 2018
Kim made the announcement while meeting South Korean President Moon Jae-in in Pyongyang. There, both leaders agreed to strengthen relations, and proposed measures like building railway connections between the two countries and starting joint economic projects.
In addition, Kim promised to permanently shut down the country's main nuclear facility "should the United States take corresponding measures under the spirit of the June 12 North Korea-US joint statement," as reported by Yonhap. It is unclear what Kim meant by "corresponding measures," but this could refer to the US declaring an end to the Korean War, a conflict frozen in a state of armistice since 1953.
President Moon praised Kim's "active efforts to turn the Korean peninsula into the land of peace without nuclear weapons or nuclear threats," and invited his northern counterpart to visit Seoul before the end of the year.
Prior to the Wednesday announcement, talks between the US and North Korea had stalled. While Trump and Kim agreed to work towards denuclearizing the Korean peninsula at their historic summit in Singapore this June, Trump canceled State Secretary Mike Pompeo's planned visit to Pyongyang last month, citing a lack of progress towards this goal. In turn, North Korean state media blamed the "gangster-like" US on Tuesday for the stalled talks.
Now, Trump's words build on conciliatory gestures from Kim in recent weeks. No ballistic missiles were displayed at North Korea's 70th anniversary parade earlier this month, and the White House announced last week that Trump had received a "personal" letter from Kim requesting a second meeting.
While Trump and Kim were this time last year locked into a bitter war of words and escalating tit-for-tat nuclear threats, Kim praised the US President for his role in the diplomatic thaw that led to the June summit.
President Moon will brief Trump on his meeting with Kim when world leaders come together for the United Nations General Assembly in New York next week. Speculation has mounted over whether Kim and Trump could hold an impromptu summit at the assembly, although that remains an unsubstantiated rumor.
Think your friends would be interested? Share this story!
You can share this story on social media: