Russia detects missile launches from French frigate off Syria's coast in Mediterranean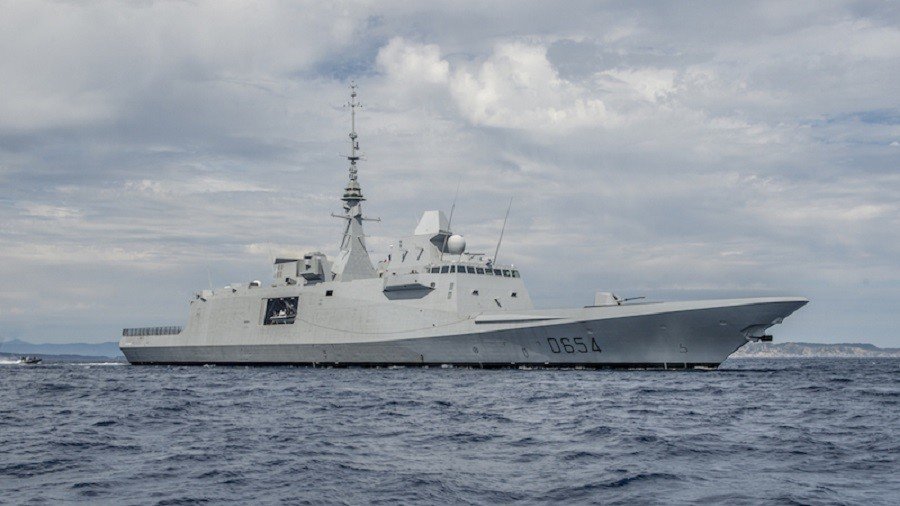 Russian airspace control systems registered missile launches from a French frigate in the Mediterranean on Monday, the Russian Defense Ministry reported.
The French Navy's newest frigate, FS 'Auvergne,' fired rockets at around 8pm GMT on Monday, the Russian military said. "Airspace control has recorded rocket launches from the French frigate 'Auvergne,'" the ministry's statement read. The 'Auvergne' is deployed in the Mediterranean Sea, off the coast of Syria.
Paris denied "any involvement in [the] attack," a French army spokesman said, as cited by AFP.
It is a 'European multi-purpose frigate' (FREMM) which entered the service of the French Navy in February this year. Prior to its official commissioning, the Aquitaine-class warship underwent deployment across the globe, including the Mediterranean Sea, the Indian Ocean, the Persian Gulf, the South China Sea and the Pacific Ocean.
The launch was detected at around the same time that air traffic controllers at Khmeimim Airbase "lost contact" with a military Il-20 aircraft during an attack by Israeli F-16 fighters on Latakia. Some 14 people were on board the plane at the time of the disappearance. A search and rescue mission is underway.
The IDF has refused to comment on the report. Despite the fact that Israel rarely acknowledges striking specific targets inside Syria, earlier this month the IDF admitted hitting at least 202 "Iranian targets" in the country.
As tensions over Idlib rise, Turkey and Russia on Monday agreed to establish a "demilitarized zone" between militants and government troops as part of an effort to clear the remaining jihadists from Syria.
Think your friends would be interested? Share this story!
You can share this story on social media: