Flightpath of US high-altitude drone near Crimea revealed by tracking website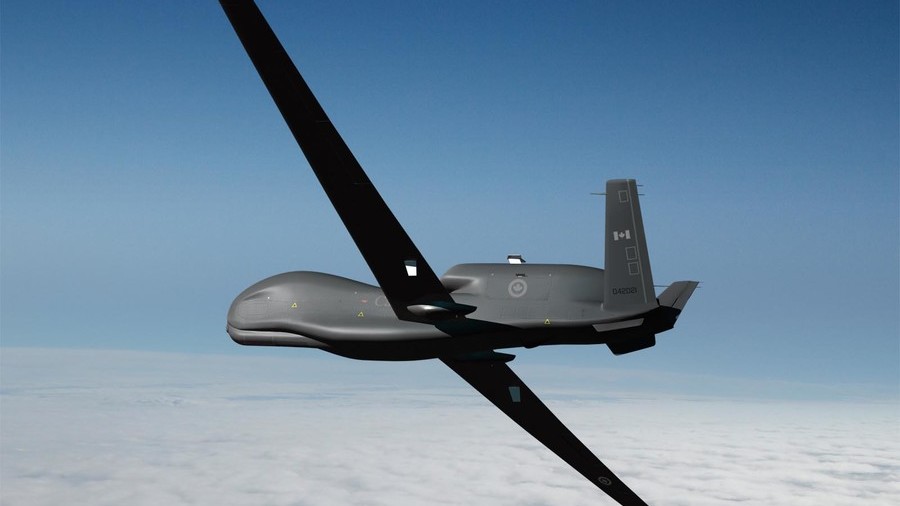 A US military high-altitude Global Hawk drone has reportedly been spotted flying an hours-long spy mission over eastern Ukraine and off the shore of Crimea along with another American surveillance plane.
The RQ-4 Global Hawk cruised over war-torn eastern Ukraine before coming within 40km of the Crimean coast. PlaneRadar website, which tracks military flights worldwide, reported the mission in a series of tweets on Saturday.
It is understood that the unmanned aircraft took off at around 9:00am GMT from a US Navy installation at NATO Base Sigonella in Sicily, Italy.
After traversing skies over the east of Ukraine, the Global Hawk headed for the Black Sea, where it was joined by a P-8 Poseidon spy plane.
Built by Northrop Grumman, the RQ-4 Global Hawk is used to gather high-resolution imagery over target areas. It is said to be able to survey as much as 100,000 square kilometers of terrain a day, which is an area roughly the size of South Korea or Iceland.
The P-8 Poseidon, developed by Boeing, is an anti-submarine warfare plane deployed for shipping interdiction and early warning missions. Its weapons systems include torpedoes, depth charges, Harpoon anti-ship missiles, and others munitions.
This is not the first time that US spy drones were detected near the Russian coast. Last year, Russian armed forces reported that US and NATO air patrols have become increasingly common in international airspace near Russia's territory. In many cases, Russian fighters have been scrambled to intercept suspicious planes.
READ MORE: Russian Flanker jet forces US spy plane to change course over Black Sea in 'safe' intercept – MoD
On certain occasions, this led to dangerous mid-flight encounters. In January of this year, a Russian Su-27 Flanker jet forced an American Lockheed EP-3 surveillance plane to abort its mission over the Black Sea.
While the Pentagon called the Russian pilot's maneuvers "unsafe," Moscow hit back, saying there was no emergency situation in the skies.
If you like this story, share it with a friend!
You can share this story on social media: