Syrians go to polls in 1st local elections for 7 years of war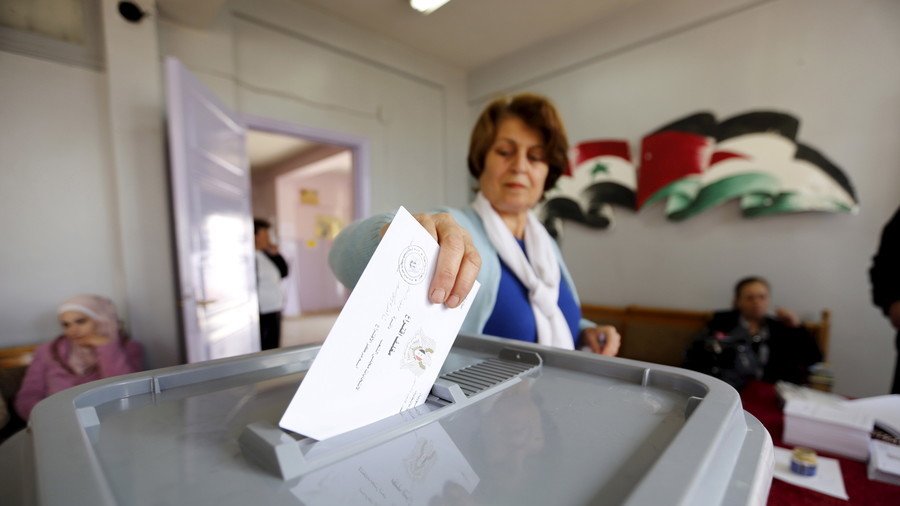 Syrians are electing their local councils during first municipal elections since the start of the lingering seven-year war. Polls have opened on Sunday shortly after an overnight airstrike hit Damascus airport.
As many as 6,551 polling stations opened on Sunday morning with Syrians invited to vote for their representatives in local councils, state news agency SANA reported. It said over 40,000 candidates are contesting 18,478 seats. Polls will be closed at 7.00pm local time, and authorities have said they took all necessary precautions to keep the ballot boxes safe and secure.
Today's local elections, the first to be held since the conflict broke out in 2011, comes amid continued violence in various parts of the war-ravaged country. On Saturday night, an airstrike – purportedly carried out by Israeli jets – hit Damascus international airport causing several explosions.
Worrying news also come from Idlib, where the Syrian army braces for its major offensive on the militants-held stronghold. Earlier, the Russian Defense Ministry claimed chlorine-filled canisters were delivered by the Al-Qaeda-affiliated fighters to stage a false flag attack that would be used to accuse the Syrian government of using chemical weapons against its people.
Nevertheless, efforts to bring lasting peace to Syria still carry on. Recently, Russia, Turkey and Iran have called on all armed groups in Idlib and beyond to lay down arms and seek a peaceful transition in the country. Leaders of the three nations had previously met in Astana in May, where they agreed to push for negotiations between its government and opposition groups, which agree to cease hostilities.
The format brought together representatives of the Syrian government and armed opposition groups at the negotiating table – something previous efforts by the international community had failed to do.
Aside from the diplomatic efforts, Russia it actively engaged in humanitarian activities in Syria. Russian military personnel have defused thousands of explosive devices left by terrorists and brought tons of much-needed aid to Syrian provinces liberated from terrorists.
Think your friends would be interested? Share this story!
You can share this story on social media: